Destiny 2 The Immortal God Roll and How to Get
Welcome to our The Immortal God Roll guide. The Immortal is an Agressive Frame Submachine Gun that can be obtained as a from the Trials of Osiris. It is a highly sought after Strand Submachine Gun that can drop with powerful perks for PvP. A normal version can be obtained easily enough with some persistent grinding, but an adept version of the weapon can also be earned by completing a Flawless Passage and visiting the Lighthouse.
Why You Should Get Immortal Submachine Gun?
You should get The Immortal Submachine Gun because is can roll with some very, very good perks combinations for PvP. In certain situations with certain combinations it can have the highly sought after .5 second optimal TTK( Time To Kill) with a very generous non-optimal ones as well. It can perform decently in PvE and could easily work there with Strand Weapons still being a fairly rare commodity. If the player is skillful enough, they can also acqure the Adept version of the weapon, allowing the use of powerful Adept Mods. Here's our list of why you should get Immortal Submachine Gun:
Excellent PvP Weapon
Extremely short and forgiving TTK
Decent PvE usage
One of the few Strand Weapons
Adept version can use Adept Mods
How to Obtain The Immortal in Destiny 2
The Immortal can be obtained from any Trials of Osiris Reward source, which includes the Weekly challenges for winning 7 matches and winning rounds. It can also randomly drop from Trials engrams and their is a static rolled version that is earned at Rank 10 of the Trials Rank Rewards. The Immortal (Adept) can only be earned by completing a flawless Trials of Osiris Passage by winning 7 matches without losing. Once the weapon has been earned you can focus it at Saint-14 for Trials Engrams, Glimmer, and Legendary Shards. The Adept version can only be focused on the Weeks it is the weekly Flawless reward and only with a 7 win Passage.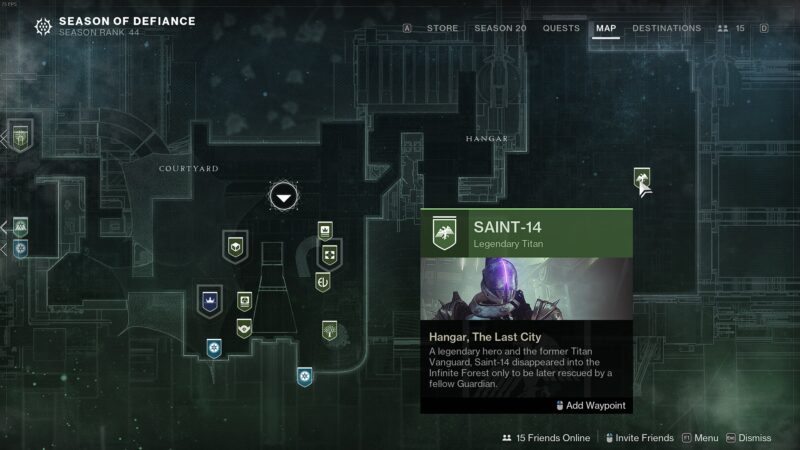 PvE The Immortal God Roll
| | |
| --- | --- |
| Barrel | Smallbore |
| Magazine | Flared Magwell |
| Perk 1 | Dynamic Sway Reduction |
| Perk 2 | Hatchling |
| Origin Trait | Field-Tested, Alacrity |
| Masterwork | Range |
| Mod | Minor Spec |
Barrel: SMG's suffer from being short to mid range weapons, so bumping up range and to a lesser extent stability is very helpful. Smallbore does both of these things decently. Hammer-Forged Rifiling, Polygonal Rifling, and Fluted Barrel are also decent choices. Avoid Arrowhead Brake as this thing doesn't really need the recoil help.
Magazine: More rounds down range is always the play in PvE. The magazine enhancement perks such as Appended Mag and Extended Mag don't give this weapon a lot of help, which leaves Flared Magwell to help Reload Speed.
Column 3 Perk: For PvE, any perk here will do. There isn't a perk here that helps tremendously better than any of the others. Dynamic Sway Reduction is always a solid choice.
Column 4 Perk: For Strand synergy the best perk here is Hatchling by far. An argument for Target Lock, Kill Clip, and Demolitionist could be made.
Masterwork: More Range is always helpful on an SMG.
Origin Trait: Field Tested is decent for most use cases, but switch to Alacrity if solo.
Mod: Primaries are often used as minor combatant clearing weapons and as such minor spec is almost always the best choice in PvE for them.
Conclusion: This weapon feels designed PvP, which makes a lot of sense considering where it comes from. That said its a decent PvE weapon as well. If you can't get a well rolled Perpetualis, then this will work as well.
PvP The Immortal God Roll
| | |
| --- | --- |
| Barrel | Full Bore |
| Magazine | Ricochet Rounds |
| Perk 1 | Rangefinder |
| Perk 2 | Kill Clip |
| Origin Trait | Alacrity |
| Masterwork | Range |
| Mod | Adept Range (Targeting Adjuster) |
Barrel: This submachine gun allows for range to get boosted almost all the way to the max. Full Bore is absolutely the best perk for this with Extended Barrel and Hammer-Forged Rifling also working.
Magazine: Ricochet Rounds is almost always the play when it can be gotten. High-Calibur Rounds works as well.
Column 3 Perk: While there are few good options here, such as Perpetual Motion and Dynamic Sway Reduction, the best choice is still Rangefinder. Rangefinder buffs zoom factor which helps so much with target acquisition and aim assist.
Column 4 Perk: Being able to lower the TTK of a weapon is always a godsend, and no perk does it as easily as Kill Clip. This allows for an Optimal TTK of .58 seconds when active and its also very forgiving. Controller users can also get some good out of Tap the Trigger, but even there Kill Clip is still the better option.
Masterwork: Again boosting Range is the best choice by far.
Mod: For the Adept version of this weapon, Adept Range is going to take this to places most SMG's can't go. For regular versions, the old main stay of Targeting Adjuster or Icarus Grip will be fine.
Conclusion: This SMG has the potential to shift the Meta. Being able to get it with Rangefinder and Kill Clip will make it absolutely shred through other guardians at some crazy ranges. This is an absolute must have for PvP. That being said it will not be easy to obtain, but it will be worth it.
More Destiny 2 Lightfall Guides and Builds
Thank you for reading our Destiny 2 The Immortal God Roll guide. Keep in mind, this weapon will work with any class (Hunter, Titan, Warlock) any subclass (Solar, Void, Stasis, Arc, Strand) and any PvE (Strikes, Nightfalls, Lost Sectors, Vanguard Operation, Dungeons, Raids) and PvP Mode in Destiny 2 (Crucible, Gambit, Trials of Osiris and Iron Banner).
If you want to see more of Destiny 2 this week's action, consider watching me live at twitch.tv/deltiasgaming and checking out the website for more guides (click), Beginner Builds and End-game PvE Builds.