Table of Contents
Destiny 2 Void Titan PvE Build
Welcome to the Destiny 2 Void Titan PvE Build! Sometimes its nice to play support. And this build is just for that. Is it the biggest damage dealing build? No, but your teammates will thank you for keeping them alive and giving them some buffs.
Last Updated March 2, 2023, for Lightfall Expansion and Season 20, Season of Defiance.  Destiny 2 has gone through a major change with their modding system.  Making mods much easier and simpler to understand but taking some of the old metas and either eliminating them or making them relevantly the same.  For instance, the "well" mods most players have been accustomed to have been completely eliminated and really the only system and combination are based of orbs of power. The mod loadout you see today will change over time as we become accustomed to new and shifting meta in Destiny 2 Lightfall.  This loadout has been tested and works, so check back frequently as we will be updating these builds throughout the season and expansion. 
| | |
| --- | --- |
| Pros | Cons |
| A Great support build | Is not a damage machine like Heart of Inmost Light builds |
| Solid damage | |
| Less dependent on mods than other builds | |
| Can be used in almost all content | |
| Grants damage and defense buffs for allies | |
| Is very easy to transition to from the beginner build | |
| Versatile | |
Void Titan Playstyle
We are trying to make our allies stronger and our enemies weaker. Our loop is all about that. Throwing our barricade down to give our allies overshields. Hitting enemies with our grenades to basically give them every debuff void offers. Throwing our super up to make our allies have a safe space to melt big enemies and large groups of enemies from.
Important Artifact Mods:
Overload Bow or Overload Auto/SMG: Strand lacks intrinsic way to counter Overload Champions so this will be needed for certain content.
Authorized Mods: Void: We will need to use at least one energy weapon so this will allow us to buff them as well.
Abilities
| | | | |
| --- | --- | --- | --- |
| Rally Barricade | Catapult Lift | Vortex Grenade | Shield Throw |
Aspects


Controlled Demolition


Bastion

Fragments


Echo of Instability



Echo of Expulsion



Echo of Undermining

Gear
Kinetic Weapons
| Recommended Kinetic Weapons | Suggested Perk 1 | Suggested Perk 2 |
| --- | --- | --- |
| Arbalest | Compounding Force | Disruption Break |
| Witherhoard | Primeval's Torment | Break the Bank |
| Night Watch | Rapid Hit | Explosive Payload |
Energy Weapons
| Recommended Energy Weapons | Suggested Perk 1 | Suggested Perk 2 |
| --- | --- | --- |
| Funnelweb | Subsistence | Frenzy |
| Collective Obligation | Void Leech | Umbral Sustenance |
| CALUS Mini-Tool | Unrelenting | Incandescent |
Heavy Weapons
| Recommended Heavy Weapons | Suggested Perk 1 | Suggested Perk 2 |
| --- | --- | --- |
| Taipan-4fr | Triple Tap | Firing Line |
| Deathbringer | Dark Deliverance | Dark Descent |
| Retrofit Escapade | Fourth Time's the Charm | Target Lock |
Exotic Armor
| Exotic Armor | Exotic Perk |
| --- | --- |
| Citan's Ramparts | Assault Barricade |
| Helm of Saint-14 | Starless Night |
| Heart of Inmost Light | Overflowing Light |
Armor Stats
Stat distribution number goals:
Mobility

-

<50 (higher is fine if you've hit other markers)

Resilience

-

100

Recovery

-

~60

Discipline

-

>80

Intellect

-

~70

Strength

-

~60
[caption id="attachment_30844" align="aligncenter" width="486"]
Resilience Tier 8 Lightfall Destiny 2[/caption] Resilience Changes: The resilience stat was heavily nerfed in Lightfall expanse and now only receives 30% damage reduction at 100 stat.  Outside of Titan builds, your goal is tier 8 (80 stats) to get good damage reduction without wasted stats.
Important Mods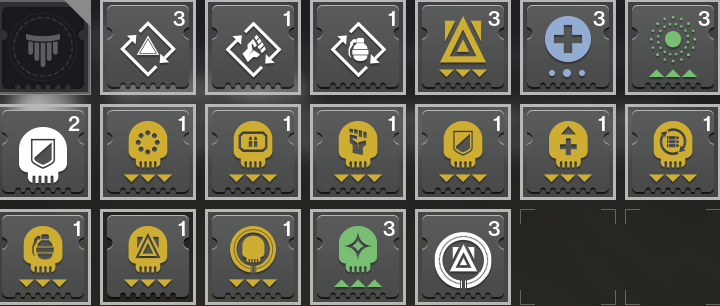 Armor Modification Change: these mods will seem foreign to returning players with Lightfall changing the entire system.  The system you build around now is only orbs of power.  You also see an armor charge mechanic and some of the previous mechanics for generating orbs of power and previously used mods.  This system is evolving, and we will continue to make changes as we gain a better understanding of the new mod system. Here's a list of all the current armor mods.
Artifice Armor Change: provides an extra +3 to whatever stat you want this should help you reach these stat goals.
Artifact Change: The artifact no longer provides mods instead it reduces the costs of some of the mods and provides passives as you level up and unlock them.  Season 20 Artifact.
Head

Resilience Mod
Go minor if you lack the energy on your armor
Head

Void Siphon
Rapid Void weapon final blows create an Orb of Power.
Head

Kinetic Siphon
Rapid Kinetic weapon final blows create an Orb of Power.
Head

Ashes to Assets
Gain bonus Super energy on grenade kills.
Arms

Resilience Mod

Arms

Bolstering Detonation
Grants class ability energy when you cause damage with a grenade.
Arms

Firepower
Your grenade final blows create Orbs of Power.
Arms

Fastball
Increases grenade throw distance.
Chest

Resilience Mod

Chest

Charged Up
Increases the maximum number of stacks of Armor Charge you can carry by 1.
Chest

Emergency Reinforcement
When your shields become broken, you gain temporary damage reduction. Consumes 3 or more stacks of Armor Charge, granting a longer duration to the damage reduction for each charge consumed.
Legs

Minor Discipline Mod

Legs

Stacks on Stacks
Picking up an Orb of Power grants you 1 additional stack of Armor Charge.
Legs

Better Already
Your health begins to regenerate immediately after picking up an Orb of Power.
Legs

Void Weapon Surge
Collecting an Orb of Power causes you to gain 1 temporary Armor Charge.\nYour Void weapons gain a small bonus to damage while you have any Armor Charge. Your Armor Charge now decays over time.
Class

Minor Resilience Mod

Class

Bomber
Reduces grenade cooldown when using your class ability.
Class

Time Dilation
Your decaying Armor Charge has a longer duration.
Class

Distribution
Reduces all ability cooldowns when using your class ability near targets.
Thank you for reading our Destiny 2 Void Titan Build!
If you want to see more of Destiny 2 this week's action, consider watching me live at twitch.tv/deltiasgaming and checking out the website for more guides (click), Beginner Builds and End-game PvE Builds.
FOLLOW ME