Welcome to the ESO Crafting Writs Guide 2023! Crafting Writs in the Elder Scrolls Online are some of the simplest and most effective ways to help progress your account, earn gold and amass a massive amount of materials!  This ESO Crafting Writs Guide will be a quick and easy reference to get you started.  This guide assumes you know very little about crafting writs, so skip ahead if some parts are redundant.
---
Get Certified
Step one is getting certified for crafting writs, which then makes them repeatable daily (dailies). Your character can be at level 6 or higher so don't wait to  unlock these.  You can unlock up to 7 crafting writ dailies each based on a different crafting skill line, with one being jewelry which requires Summerset DLC or ESO+.  You'll need to visit three different NPCs to start the certification process.
Millenith | Location Fighter's Guild = Blacksmith, Woodworking and Clothier
Danel Telleno | Location Mage's Guild = Provisioning, Enchanting and Alchemy
Felarian | Location Summerset Alinor = Jewelry (requires Summerset DLC or ESO+)
Each crafting profession requires a small quest completion which will then unlock the daily.  You can bypass this if you've leveled up the skill line through deconstructing material.  This is typically done by banking useless armor and jewelry pieces from your main character, then allowing alts to deconstruct the items so they can speed up the progression of each skill line.  If it's your first time getting certified, this is what you'll be asked to do:
Find material (e.g. mine ore)
Refine the material into ingots for blacksmithing
Make an item, dagger
Deconstruct the item
Complete quest and move onto the next profession
Now you are certified which allows daily completion of each individual profession you're certified for.
---
Daily Crafting Writs
Once certified for crafting writs, it's time to take advance of them each and every day on as many characters as possible.  Remember, your character must be level 6 or higher, so it makes sense to level up alts in order to get maximum gains.  You can even level your character 1-50 through crafting writs, specifically Master Writs, which are a bit more complex.  For now, go to the writ board in your favorite town location.  I highly recommend doing crafting writs in Vivec City (Vvardenfall) as the boards where you pick up your daily writs are all very close to the crafting stations you will need!
Equipment Crafting Writs
The Equipment Crafting board is where you can pick up your daily writs for Blacksmithing, Clothing, Woodworking and Jewelry. Accepting the writ for each crafting line will give your character a corresponding quest. Each quest will require you to craft basic white level armor or weapon pieces using a type of raw material which will correspond to the experience level of the crafting line on that particular character.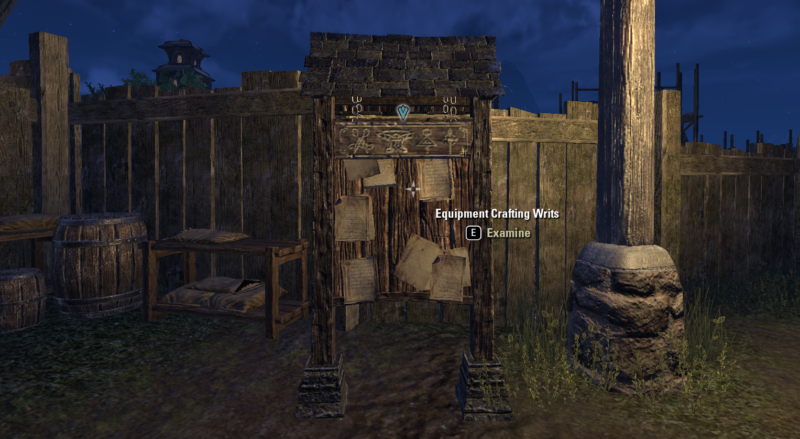 Jewelry Writs
In order to do jewelry crafting and be certified for the writs, you must own the Summerset Chapter/DLC or have ESO+.
The jewelry writs will require you to make one of three possible requests:
3 rings
2 necklaces
1 necklace and1 ring
The level of the refinement you are required to craft the items to is based on your rank in the Engraver Improvement skill.
Consumables Crafting Writs
At the board for Consumables Crafting Writs you will find writs for Alchemy, Provisioning, and Enchanting crafts.
Alchemy Writs
Like the equipment crafting writs, the type of potions/poisons the quest asks for when you accept the writ will be based on your character's Alchemy level. Alchemy writs will require one type of potion or poison out of a limited list of 6 potions and 4 poisons. These will repeat, so if you can craft multiple and leave them waiting in your character's inventory, the game will automatically detect their availability and signal that you may go ahead and turn in the quest.
If you do not have the item on hand, then you will need to craft it.
Possible Potions

One Potion of Health (Mountain Flower, Water Hyacinth)
One Potion of Magicka (Columbine, Corn Flower)
One Potion of Ravage Magicka (Violent Coprinus, White Cap)
One Potion of Ravage Health (Blessed Thistle, Nirnroot)
One Potion of Ravage Stamina (Imp Stool, Stinkhorn)
One Potion of Stamina (Blessed Thistle, Columbine)

Possible Poisons

Damage Magicka Poison IX (White Cap, Blue Entoloma)
Damage Stamina Poison IX (Fleshfly Larva, Imp Stool)
Damage Health Poison IX (Blessed Thistle, Corn Flower)
Drain Health Poison IX (Water Hyacinth, Mountain Flower)
Provisioning Writs
All of the required recipes can be purchased from Chefs and Brewers in most of the world's inns and taverns. They can also be acquired through guild traders. Similar to Alchemy, there is a restricted list of 12 recipes which will repeat in pairs each time you pick up a daily provisioning writ. These recipes are:
Hearty Garlic Corn Chowder (Corn & Garlic)
Markarth Mead (Barley & Metheglin)
Argonian Saddle-Cured Rabbit (Small Game & Saltrice)
Sipping Imga Tonic (Gingko & Lemon)
Firsthold Fruit and Cheese Plate Jazbay Grapes & Cheese)
Muthsera's Remorse (Bittergreen & Metheglin)
Pickled Carrot Slurry (Carrots & Saltrice)
Arenthian Brandy (Surilie Grapes & Lemon)
Fresh Apples and Eidar Cheese (Apple & Cheese)
Khenarthi's Wings Chai (Jasmine & Honey)
Lilmoth Garlic Hagfish (Fish & Garlic)
Hagraven's Tonic (Gingko & Ginger)
Enchanting Writs
The enchanting writs also have a repeatable 3-day rotation of glyphs and the level of the glyph you are required to craft is based on your rank in the Potency Improvement skill.
The glyphs will be for basic Stamina (X, Deni, Ta), Magicka (X, Makko, Ta), and Health (X, Oko, Ta). The 'X' rune needed will vary, depending on your level of Potency Improvement.
---
Rewards
Gold
You will receive 4,500 gold if you complete all of your daily writs. This may not seem like a lot, but if you were to complete all of the daily writs every day on 9 different characters, this would add up to 40k gold per day or over 1 million gold in a month! From writs alone, that's a nice cumulative effect. And that's not all –
Inspiration
Crafting experience in ESO is called Inspiration and it applies to all six crafting lines. The easiest way to gain inspiration for most lines is to deconstruct armor/glyphs/jewelry items at crafting stations, or by crafting items/consumables yourself. Completing your daily writs will also provide you with additional inspiration for your crafting lines.
Materials
When you complete and turn in each daily writ, you will also be rewarded raw materials, trait stones, and improvement materials. The type of the materials will scale to the level of the corresponding crafting line, while the quality of the improvement materials is random. Again, doing all of the daily writs on multiple characters means that you will have multiple chances to acquire gold level improvement materials!
Survey Reports
Another reward which can drop from daily writs are Survey Reports. These items, when viewed, will function similarly to treasure maps. A drawing of the zone will appear in a sketchy format and will include an X, marking the spot. Discovering that spot on the map will lead you to a horde of raw materials. These special resource nodes will typically be clustered together, and when farmed will always yield a high level of raw materials.
Master Writs
Finally, there are Master Writs. These have a small chance to drop upon completion of your daily writs. Master writs, if accepted, will give your character a quest which requires them to craft a certain item. The higher the rarity of the Master writ, the more difficult and specific the requirements will be. Completing Master Writs will reward you with a specified amount of Writ Vouchers, which can be used to purchase various helpful household furnishings, recipes, and motifs.
---
Recommended Addons
The most helpful addon for completing your daily crafting writs comes from Dolgubon and is the gold standard for simplifying the work of writs!
Dolgubon's Lazy Writ Crafter will automatically craft gear on the Blacksmithing, Woodworking, Clothing, and Enchanting stations. It will automatically withdraw any needed items or raw materials from your bank (or crafting bags if you have ESO+) and craft an item which perfectly matches the request on the writ.
Daily Alchemy is a simple addon which will automatically craft your alchemy writs for you.
Daily Provisioning will automatically craft your provisioning writs for you.