In this ESO Attribute Points Guide 2023, we're going to take a look at what Attributes points are for in the Elder Scrolls Online, and how you can best place them in order to get the most out of your character and build!
Attributes
There are three main Attributes in ESO:
Health – the total amount of hit points you can loose before dying.
Magicka – magical energy used to cast spells. The higher your magicka pool, the more damage you deal with magicka based abilities and the stronger heals you cast.
Stamina – physical energy used to sprint, dodge, block, sneak and for casting stamina-based abilities. Again, the higher your stamina, the harder your stamina-based abilities will hit.
On PC/Mac, you press the 'C' key to go to the character screen. This is where you will spend your attribute points, and where you can see many of your character's other stats.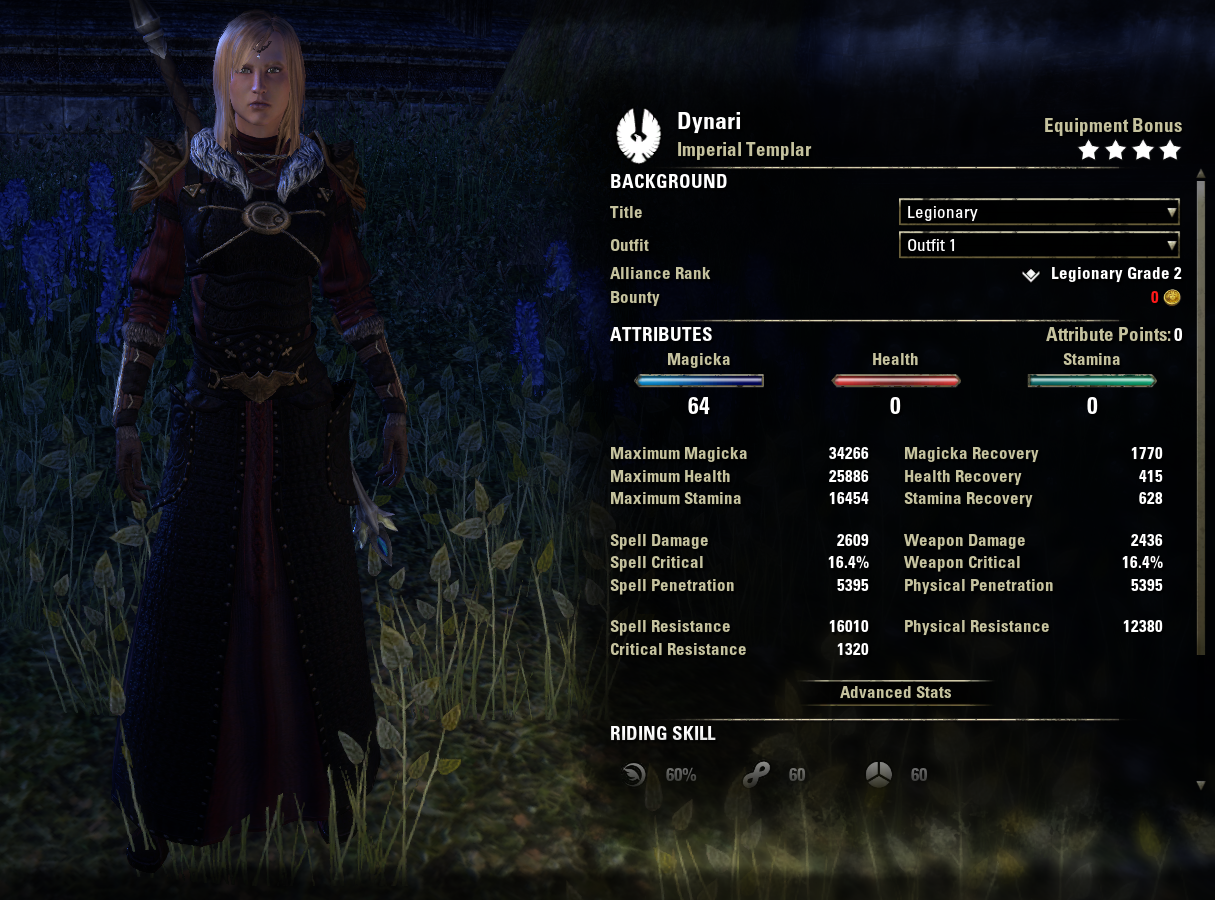 Each time your character goes up a level you will be rewarded with at least one attribute point. These points can be spent on increasing your Health, Magicka, or Stamina pool. As I mentioned when talking about builds in ESO, typically you will put most of your attribute points into either Magicka or Stamina. Generally speaking, if your character uses Magicka dominate skills you should stack all your points into Magicka. If your character uses Stamina dominate skills, then put your points into Stamina. Health points are typically only for tanking, or in PvP.
While PvE usually has you stacking your points all into one pool, when you're setting your points to take your character into PvP there is usually more of a mix. To improve survivability there you'll want to stack at least some points in health as well as in your dominant Magicka/Stamina pool. But if you're struggling while leveling in PvE, and need some extra cushion, don't hesitate to put more points into Health.
If you need to at any point, you can spend some in-game gold in order to change how you distributed the attribute points on your character. You need to travel to your alliance's capital city:
Aldmeri Dominion: Eldenroot in Grahtwood
Daggerfall Covenant: Wayrest in Stormhaven
Ebonheart Pact: Mournhold in Deshaan
Once there, look on the map for the Rededication Shrines. Eldenroot will have the Shrine of Auriel, Wayrest the Shrine of Akatosh, and Mournhold has the Shrine of Kyne.
---
Additional Guides:
If you're looking for a one-bar PvE builds click HERE, one-bar PvP builds HERE or one-bar Werewolves builds HERE. Also, consider watching me on TWITCH where you can ask me questions about my current builds.
FOLLOW ME