Are you just starting off on your adventures in Tamriel? Or maybe you signed up during a free trial week a long time ago and are coming back to give the game to give it a second try? In this ESO Complete Beginners Guide I'm going to layout all the tips and tricks to give you the most efficient leveling experience!
I always highly recommend that brand new players keep most of their focus on enjoying the main story quest and discovering things without racing through the content. Mostly likely, if you try and rush too fast, you are going to miss things along the way and then have to backtrack and spend additional time reacquiring something important. Plus, the overall story in ESO is top-notch!
But even if you're planning on taking the 'scenic route' through the game, ESO is over eight years old now and has some sprawling content. Take advantage of my in-game experience and read through these guides in order to gain a basic understanding of how the game functions, what certain terms or concepts mean, and how to set your character up for success right from the start!
---
Character Creation
Alliances
In the Elder Scrolls Online there are three major factions at play, all warring with each other in an attempt to capture the Ruby Throne in the White Gold Tower and thus wrest control of Tamriel from the others. Each alliance has its powerbase in three major zone strongholds:
Aldmeri Dominion – Summerset Isles, Valenwood, and Elsweyr
Daggerfall Covenant – Hammerfell, High Rock, and Orsinium
Ebonheart Pact – Skyrim, Morrowind, and Black Marsh
These zones also correlate to the races who are allied with each other.
Aldmeri Dominion – Altmer (High Elves), Bosmer (Wood Elves), and Khajiit
Daggerfall Covenant – Breton, Redguard, and Orc
Ebonheart Pact – Nords, Dunmer (Dark Elves), and Argonians
The Alliance choice is an important one in game. Each Alliance has its own unique storyline (however, once you play through the storyline once, the game allows you to experience the other factions on the same character if you would like to do so).
Most importantly, the Alliance you choose will lock your character into that particular PvP faction. In Cyrodiil especially, the zone where the Alliance War plays out in real time, you will only be able to play with others from your own faction.
These faction lines do NOT impact PvE gameplay, however. In 12 person trials, 4 player dungeons, and all overworld PvE content, you can freely group with players regardless of Alliance choice.
If you have purchased the 'Any Race, Any Alliance' upgrade to the game, in the character creation screen you will be able to do just that. You may choose to play a Khajiit in the Daggerfall Covenant or a Nord in the Aldmeri Dominion. If you have not, however, then the race choices will be locked into the alliances listed above.
If you create a character and later come to regret the Alliance you chose, the game does provide the opportunity to change factions – but this requires the purchase of an Alliance Change Token from the Crown Store. And the 'crowns' currency itself generally costs real money.
Races
There are 10 races to choose from in ESO, and each offer their own benefits and strengths through the passive traits in their skill lines. A quick summary of these are:
Altmer (High Elf) – great for magicka builds, lacking in stamina buffs
Argonian – love that extra fast swimming! But seriously, great healing and tank buffs
Bosmer (Wood Elf) – some stamina and speed buffs
Breton – fantastic for magicka builds due to sustain buffs, but lacking in damage
Dunmer (Dark Elf) – a great all-around race that provides max stats and damage buffs
Imperial – no damage buffs, but provide great resource pool and ability cost reduction
Khajiit – fantastic choice for a damage dealer due to increased critical hit chance
Nord – nice resistances, along with stamina and health buffs
Orc – speed, damage, and max stats make them powerful builds, but lacks sustain
Redguard – top tier for stamina sustain, but no damage buffs
How important is your race choice? That depends on your playstyle and end game goals. Do you want to play with the big boys at end game? The top-tier 1% who are doing all the Veteran Hard Mode content? Then yes, your race choice will absolutely matter.
But for regular players? Most of whom might try out some of the base game Veteran Dungeons, but aren't looking to repeatedly bash their heads against the wall trying to earn the trifecta achievements of the newest/hardest Veteran Trial? Choose whatever race you want to play. But if you get to end game and really want to make a change, there are Race Change tokens available for purchase in the Crown Store.
For a much more in-depth look at race choices in ESO, check out my guide HERE.
Classes
There are six classes in ESO. All six have their own unique class skill lines and abilities.
Dragonknight – a strong class, DKs really shine as tanks
Nightblade – a class based on stealth. Lots of burst damage, but can be squishy
Sorcerer – their strong summons abilities generate pets which can fight for and heal you
Templar – strong healers, and in general a good beginner class
Warden – another strong healer class with great group buffs and mobility
Necromancer – powerful class, but rotations can be difficult to master
For some great beginner builds for all classes, check out my guides HERE. If you take a look at this page you will see that in ESO builds are generally classified as 'Magicka' or 'Stamina'. This mainly refers to where you will put most of your earned 'Attribute Points' as you level (more on that in just a bit). Don't stress out too much about this right now – if you choose a Magicka class build and decide later that you would really rather try a Stamina build later on, the game has built in mechanisms (available for in game gold) where you can switch.
---
Tutorial
Attributes
There are three main Attributes in ESO:
Health – the total amount of hit points you can loose before dying.
Magicka – magical energy used to cast spells. The higher your magicka pool, the more damage you deal with magicka based abilities and the stronger heals you cast.
Stamina – physical energy used to sprint, dodge, block, sneak and for casting stamina-based abilities. Again, the higher your stamina, the harder your stamina-based abilities will hit.
On PC/Mac, you press the 'C' key to go to the character screen. This is where you will spend your attribute points, and where you can see many of your character's other stats.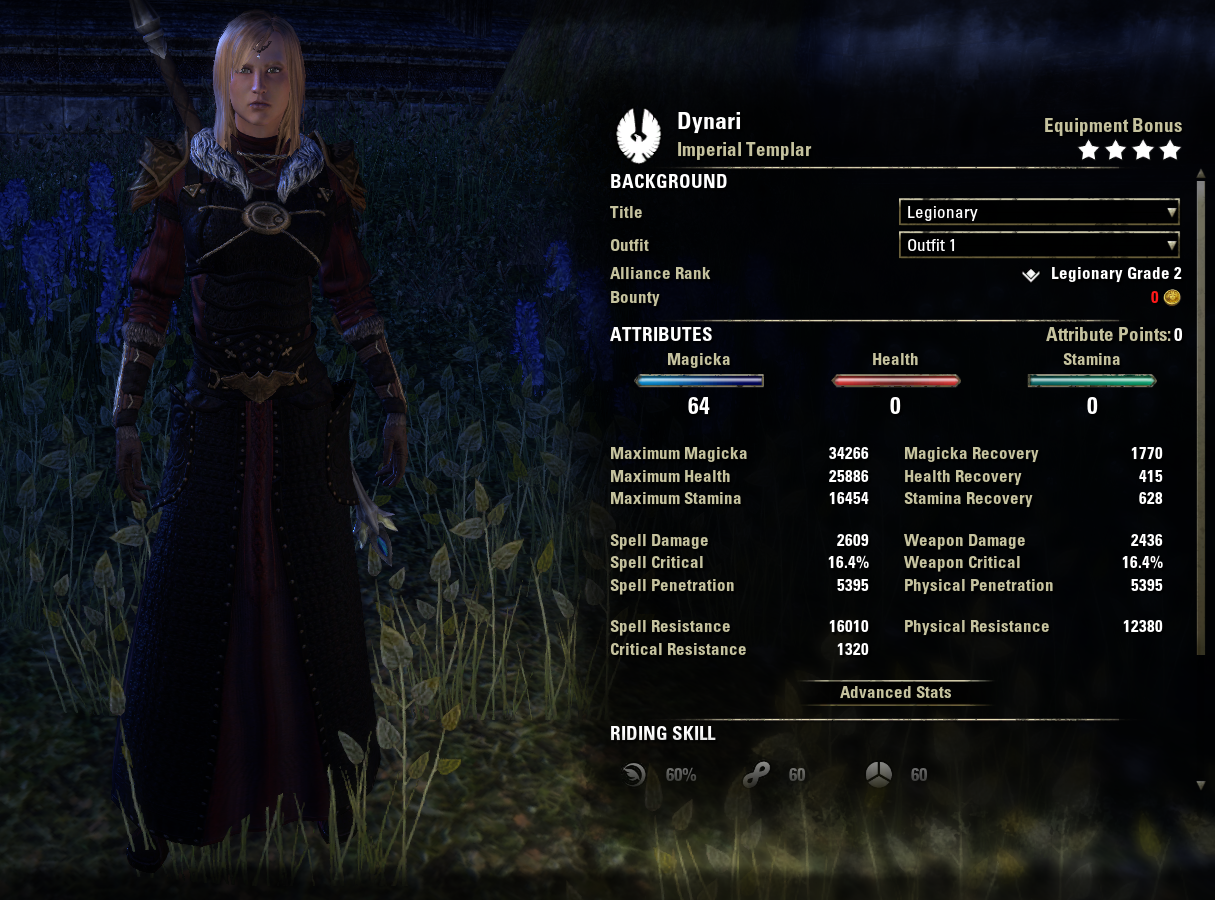 Each time your character goes up a level you will be rewarded with at least one attribute point. These points can be spent on increasing your Health, Magicka, or Stamina pool. As I mentioned when talking about builds in ESO, typically you will put most of your attribute points into either Magicka or Stamina. Generally speaking, if your character uses Magicka dominate skills you should stack all your points into Magicka. If your character uses Stamina dominate skills, then put your points into Stamina. Health points are typically only for tanking, or in PvP.
While PvE usually has you stacking your points all into one pool, when you're setting your points to take your character into PvP there is usually more of a mix. To improve survivability there you'll want to stack at least some points in health as well as in your dominant Magicka/Stamina pool. But if you're struggling while leveling in PvE, and need some extra cushion, don't hesitate to put some points into Health, either.
Again, if you need to at any point, you can spend some in-game gold in order to change how you distributed the attribute points on your character. You need to travel to your alliance's capital city:
Aldmeri Dominion: Eldenroot in Grahtwood
Daggerfall Covenant: Wayrest in Stormhaven
Ebonheart Pact: Mournhold in Deshaan
Once there, look on the map for the Rededication Shrines. Eldenroot will have the Shrine of Auriel, Wayrest the Shrine of Akatosh, and Mournhold has the Shrine of Kyne.
Skill Points
Skill points are what you use to unlock or morph abilities and passives in the various skill lines available to your character. You can earn skill points in a variety of ways, including:
Over the course of leveling your character to level 50, you will earn 64 points.
Completing the Main Story quests (Harborage) will grant you 11 points.
Completing the central story quests for your Alliance will net you 18 points.
Absorbing three skyshard pieces will grant you one point. There are hundreds of skyshards scattered throughout the game.
Completing the story quest for each of the base game dungeons (24 points) and DLC dungeons (26 points so far).
While this isn't a complete list, these are the best and most effective ways to earn skill points. This may seem like a lot of points to throw around, but as you will soon see, there are a TON of skill lines, and abilities and passives to spend points on.
Like Attributes points, Skill points can also be redistributed by visiting shrines and spending in game gold. They will be located in the same city/area but will be done through different shrines. Eldenroot and Wayrest both have Shrines of Stendarr, and Mournhold has the Shrine of Stuhn.
Skill Lines
There are skill lines to level for nearly everything in game. Class abilities, weapons, armor, guilds, alliance war, crafting, and more! When you're just starting out, it's going to seem like you'll never have enough. Pace yourself. Class and weapon abilities are most important, but once you fill out your ability bar don't be afraid to spend some points in the class, weapon or armor passives as well.
Don't forget the Racial skill line, either! This is where your character can really gain a lot of strength based on their racial passives. There are no active abilities in this line, only passives. It will level automatically, simply by playing the game and questing.
Class Abilities
Each class has three unique lines, all with their own unique abilities and passives. Going over each class and their abilities would be too much for a basic beginner guide, but if you're interested in learning more be sure to check out this list of Beginner Builds for the best way to level your character.
The most important thing to know at the beginning is this: As you play through the tutorial and earn skill points (you should get at least 3) be sure to use each point to unlock the very first ability in each class line and slot that ability on your bar.
Why? Because having abilities on your bar is what levels the class skill line. And no matter what you plan on doing at end game, you want to make sure that all three class skill lines reach level 50. You're not going to use all of the abilities in a single class skill line, but you are very likely to use at least one and you'll also want to be able to eventually unlock all the passives there as well.
For example, you can see in the image below that this starting Templar character has slotted Puncturing Strikes from the Aedric Spear line in slot 1, Sun Fire from Dawn's Wrath in slot 2, and Rushed Ceremony from Restoring Light in slot 3. In slot 4 you should put in the first ability from whatever weapon you're choosing to level. This Templar is using a Two Handed Greatsword, so Uppercut is the ability slotted there. Finally, when you're just starting out, grab the ability Soul Trap from the Soul Magic skill line for slot 5. Your Ultimate (slot 6) will have to wait for later.
Passives
Passive skills provide a bonus all of the time. They do not ever need to be placed on your bar and once unlocked with a skill point they will become immediately active.
Don't sleep on passives! Their additional buffs add up over time and they will be absolutely vital to the overall power of your character.
Champion Points
Once your character gets to level 50, you will start to earn Champion Points. There is an uncapped amount of 3600 Champion Points to earn in the game, but don't let this total number intimidate you! There is a soft cap on Champion Points, where they really stop adding a noticeable amount of power at around 1500. In addition, the fewer Champion Points you have, the faster you earn them.
The most important things for beginners to know about Champion Points is this: Gear caps out at Champion Point 160. So don't immediately kit your level 50 character out in gold level gear once you get to end game. Wait until you hit at least Champion Point level 160 and you'll be able to wear the strongest pieces of gear in the game.
For a more robust description of the Champion Point System check out my guide HERE.
---
Welcome to Tamriel
Before You Go
Congrats! You've made it through the tutorial gameplay and have dropped into the world of Tamriel. The world of ESO lays at your feet – you can go anywhere and pick up the game story wherever you like.
Stuck on where to start? If you're a first-time player, here is my recommendation: play at least the base-game story in chronological order. Depending on your Alliance, this will mean going to:
Aldmeri Dominion: Khenarthi's Roost (small starting island), and Auridon
Daggerfall Covenant: Stros M'Kai (small starting island), and Glenumbra
Ebonheart Pact: Bleakrock Isle (small starting island), and Stonefalls
But! Before you dash off and start questing, it's important to get you and your character set up now so that you can have a hopefully backtrack-free leveling experience. Ideally, you get to end game with a character who can unlock any class ability, has their chosen weapon skill lines leveled to 50, has all three armor skill lines leveled to 50, and has leveled up the skill lines of the three major in-game guilds and Psijic Order (more on those below!).
Keybinds, Addons and Settings
If you're playing ESO on PC, your Keybinds, User Interface Settings and Addon mods are an important part of your gameplay experience. It will take a bit of extra time, but getting these set up on your character before you really dig into the gameplay will definitely save you time and frustration later.
For Addons, you'll need to download the Minion Addon Manager.
Check out this video for all the additional information you need, with my personal recommendations for Keybind User Interface Settings, along with which Addons I find the most useful!
Armor Leveling
There are three types of armor body pieces in ESO: Light, Medium and Heavy.
Just like weapons and class skills, each armor type has its own skill lines and passives which can be leveled. There are no regular abilities to unlock, but there are Ultimates which unlock once the armor line gets to level 50. 
When you're just starting out, with a limited amount of gold and resources, armor may not seem all that important. BUT because each type of armor has its own skill line and very essential passives you'll want to take, making sure to unlock and level all three right at the beginning will give you a great head start.
In order to unlock an Armor skill line, you need to equip three pieces of the same type. So: 3 Light pieces, 3 Medium pieces and 3 Heavy pieces.
For more information, check out my full ESO Armor Leveling Guide.
Weapon Leveling
In order to unlock a weapon skill line all you have to do is equip the type of weapon you want, whack an enemy and kill it, and the resulting experience you get will unlock the skill line. All you have to do to continue to level the skill line is to engage in combat with that weapon equipped. If you have a corresponding weapon ability on your bar, engaging in questing and combat will level both the weapon skill like and the ability itself.
If you change your mind and want to level another weapon type? You do the same thing – equip it, kill something, and the skill line unlocks. Rinse and repeat. 
Seems simple enough, yes? But it's best to have some idea of what type of playstyle you like and what end-game build you want to have in order to streamline the weapon leveling process. Otherwise you might get to endgame with the destruction staff leveled up only to realize that what you really want is to play a bow ganker build. And then you have to go back and spend time leveling the bow from ground zero.
If you're not sure what to play, I highly recommend checking out my Beginner Builds as a helpful place to start!
---
Join These Guilds
There are three primary story-based guilds in ESO. These are: the Fighters Guild, the Mages Guild, and the Undaunted. All three guilds will have their own main storyline and quests which you can complete to earn skill points. In addition, there are other DLC based guild skill lines. The most important of these is the Psijic Order, which is associated with the Summerset DLC.
Most significantly, each of these guilds also have their own associated skill line, with unique abilities and passives that you can unlock in different ways for each guild. All of these skills and passives are unique to their skill line and many can be valuable additions to your build. 
The sooner you unlock these skill lines, the more efficiently you can start leveling. Be sure to unlock all four before you run off into the world of Tamriel! This will save you time and help prevent a lot of backtracking later on.
Fighters Guild
In order to unlock the skill line from the Fighters Guild you will first need to be a member. If you have a new character which hasn't already joined, visit the Fighters Guild Hall in your alliance's starter city. This would be Daggerfall in Glenumbra, Davon's Watch in Stonefalls, or Vulkhel Guard in Auridon. Once inside the Hall, you will need to speak with an NPC to officially join the guild. This will unlock both the Fighters Guild skill line, which you should now be able to pull up in the character skill line UI under Guilds.
For more information on how to best level up the Fighters Guild skill line check out my complete ESO Fighters Guild Guide.
Mages Guild
In order to unlock the skill line from the Mages Guild you will first need to be a member. If you have a new character which hasn't already joined, visit the Mages Guild Hall in your alliance's starter city. This would be Daggerfall in Glenumbra, Davon's Watch in Stonefalls, or Vulkhel Guard in Auridon. Once inside the Hall, you will need to speak with an NPC to officially join the guild. This will unlock both the Mages Guild skill line, which you should now be able to pull up in the character skill line UI under Guilds.
For more information on how to best level up the Mages Guild skill line check out my complete ESO Mages Guild Guide.
Undaunted
In order to unlock the skill line from the Undaunted you will first need to be a member. To join them, you will need to find the recruiter at the Tavern within your faction's starting city (Daggerfall in Glenumbra, Davon's Watch in Stonefalls, or Vulkhel Guard in Auridon). There will be an initiate quest to complete, and then you will be part of the guild. This will unlock both the Undaunted skill line, as well as the daily quests.
The Undaunted skill line is leveled by completing dungeons and by gaining dungeon achievements. Obviously, the easiest thing to do here is to simply run dungeons! But you can get extra rewards by also completing Undaunted Pledges at the same time!
To accept a Pledge quest you'll need to visit the Undaunted Enclaves in your alliance capital city – Wayrest city in Stormhave, Mournhold in Deshaan, and Elden Root in Grahtwood.
For more information on Pledges you can check out my ESO Undaunted Daily Pledges guide.
Like the Fighters and Mages guilds, the Undaunted also offer daily quests, which you can use to level your companion(s) if you choose. For a full guide with information on how to unlock the daily quests for ALL of the main guilds check out my ESO Daily Guild Quest Guide.
Psijic Order
The skill line associated with the Psijic Order is not part of the base game and requires the purchase of either the Summerset Chapter/DLC or having a subscription to ESO+. This is a skill line that can be rough going to level – like the Mages Guild it requires a lot of running around and finding certain points on the map (in fact, make sure to unlock Mages Guild too so you can then run around one time doing both!). But if your goal is to play any kind of PvP, it will be well worth it for the Race Against Time ability which can be unlocked on this skill line.
You'll have to do a bit of storyline questing before the skill line unlocks. Travel to the wayshrine outside of Alinor and just steps away should be an NPC named Calibar. Talk to him and follow the quest line from there. 
Eventually you will meet a mage from the Psijic Order and a quest or two later she'll invite you to visit the Psijic isle of Arteum. Go inside the Tower and within the first large, main interior space find and speak with Loremaster Celarus.
For more information on how to unlock and level the Psijic Order skill line, check out my ESO Psijic Order Leveling Guide.
---
Doing Your Dailies
In ESO there are all kinds of daily tasks and quests you can complete to earn different rewards over the long term. The most obvious is when you sign in for the first time each day, you will have a notification telling you to go and claim your Daily Login Reward.
Aside from that easy enough task, the full list of dailies can be quite extensive. Mount Upgrades should generally take priority over everything else and there is more information about that directly below. If you would like to see a full list and guide for Daily Priorities please check out this GUIDE.
Mount Upgrades
For a brand new player, the most important daily task should be upgrading your mounts!
Tamriel is enormous and every day you can feed your horse once which buffs certain traits!  At level 10 you should a horse added to your collection.  Each town has a Stablemaster, which is the NPC used to increase riding skills speed, stamina, and carry capacity via riding trainer tab which looks like a horseshoe.  Each point can be applied every 20 hours at 250 gold each.  You'll want to prioritize speed > carry capacity > stamina.  Stamina is used when getting attacked and or engaging sprint on your mount. If you run out, you fall out and can't use your character for a couple of seconds.  Consider stamina a priority over carry capacity if you're a PvPer.
Another tip you can do to increase your mount speed is at level 10 complete the Cyrodiil Introduction quest by joining a PvP campaign and learning the basics of Cyrodiil. You'll receive a mail at level 10 inviting you to do this.  Next, you'll want to complete the quest and take the Continuous Attack passive.  This will give a Major Gallop at all times, increasing your Mount Speed by 30%.  This applies inside and outside of PvP and is super helpful until you get your horse max speed. Additionally, Daily Reward logins contain horse speed so make sure to login every day
---
Cyrodiil
After you hit level 10 and receive an "Invitation to Cyrodiil" mail, go to any campaign (how to enter Cyrodiil HERE) and look for an NPC with the main quest marker above the head. They will be in one of Cyrodiil's starting points, depending on your alliance: Northern High Rock Gate (Daggerfall Covenant), Southern Morrowind Gate (Ebonhart Pact), and Western Elsweyr Gate (Aldmeri Dominion).
Cyrodiil is a zone in the center of Tamriel, with wide plains and many cities, outposts, bridges and castles called the keeps. Players from three factions fight for domination over the map and the Emperor's throne. The three factions are Aldmeri Dominion (yellow), Daggerfall Covenant (blue) and Ebonheart Pact (red). Green highlighted keeps on the map below are locations available for my character to teleport using Transitus Network. All Transitus shrines are connected with lines on the map. Keeps with the yellow star around the icon are under attack. The goal of every alliance is to control as many keeps, outposts, scrolls, resources or cities as possible to get Campaign Points. The score evaluation is every hour.
Day and night, you can find groups or single players sieging the keeps, flipping flags, and fighting over lumbermills or cities. It's a never-ending war waiting for you! For more details, the list of keeps and Cyrodiil history click HERE.
Alliance Points
Alliance Points (AP) are the currency you earn by killing other players and NPCs and/or by taking Keeps, Defending Keeps, Capturing Scrolls, or by doing Cyrodill Daily quests. You can spend these points in a variety of ways, including equipment containers for various Cyrodiil sets, on Cyrodill specific armor motifs, or at the Golden Vendor.
In addition, all of the AP you earn increases your character's Alliance ranks and also increases the level of the Assault and Support skill lines.
Check out my How to Farm Alliance Points Guide for a deeper dive into ESO's PvP currency.
Assault and Support Lines
First, you need to finish the "Introduction to Cyrodiil" quest. It's short and doesn't require any PvP activities. It is very important to complete it as fast as possible because it'll provide you with 3 skill points, and unlocks your Alliance War skill lines: Support and Assault. Skills like Barrier, Resolving Vigor or Caltrops are necessary for PvE and PvP. You can unlock them only by PvP activities, and the "Introduction to Cyrodiil" quest will automatically after completing it gives your character level 3 in both Alliance war skill lines including the Resolving Vigor ability!
The NPC will offer you basic training and an explanation regarding the war in Cyrodiil. Accept the quest and now you can skip it or follow it. Important: do not skip it! If you choose to talk to the General and skip the training you won't receive skill points and Alliance experience! In the picture below I show my conversation with the quest giver on the Daggerfall Covenant side.
For a much more robust, in-depth and complete Cyrodiil guide please check out my Cyrodiil PvP Guide for Beginners!
---
Level 15 and the Back Bar
More to come!
---
Companions
Coming Soon
---
Additional Guides:
If you're looking for a one-bar PvE builds click HERE, one-bar PvP builds HERE or one-bar Werewolves builds HERE. Also, consider watching me on TWITCH where you can ask me questions about my current builds.
FOLLOW ME