The annual ESO New Life Festival is here, bringing feasting and merriment to the denizens of Tamriel! For those brave enough to join in, XP bonuses and all sorts of reward goodies await! Take full advantage of the festivities by following our ESO New Life Festival Guide 2022!
New Life Festival Quests
If you've never participated in the New Life Festival before, here is how you join in the fun:
Open up the Crown Store and 'purchase' (there is no actual cost, it's free!) the New Life Festival quest

Travel to the New Life Festival tent by using the Kynesgrove Wayshrine in Eastmarch or via the portal found at Impresario locations

At the tent, speak with New Life Herald Breda (see image below).

Speaking with her is the only thing you need to do in order to complete this very simple introductory quest

Completing the quest will grant you the Breda's Bottomless Mead Mug. Use this item by going to the Collections tab and click on Tools.

Drinking from the Mug will automatically grant your character a two hour long +100% bonus to earned XP.
If you have already completed the quest for Breda in a previous festival, then the Bottomless Mead Mug will already be available to you in the Collections tab under Tools! Simply double click to take a long drink and you're ready to go.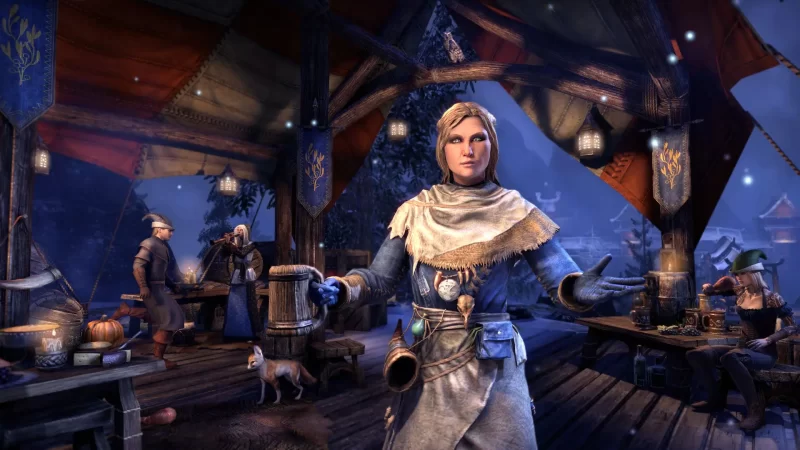 New Life Special Daily Quests
Once you have received your Bottomless Mead Mug, you can speak to Breda again in order to receive one (randomized) of nine specific New Life Festival quests. These daily quests will send you to multiple locations all over Tamriel (base game only!) in order to complete fun games or challenges.
Pro Tip: You only have to complete ONE of these quests a day on a single character in order to receive your Event Tickets!
Completing each of these nine daily quests at least once will earn you the New Life Cerulean dye.
Castle Charm Challenge

Travel to north Stormhaven and put on a performance in three specific, highlighted locations in Alcaire Castle

Fish Boon Feast

Travel to Shadowfen to fish. Collect a Histmuck Blobfin, a Shadowfen Creeping Leech, and a Black Marsh Cucumber for NPC Gentle-Heart.

Lava Foot Stomp

Travel to the town of Davon's Watch in Stonefalls. You must perform the Lava Foot Stomp dance in three specific, highlighted locations.

Mud Ball Merriment

Travel to the town of Skywatch in Auridon. Throw mudballs at 10 NPCs or other players. Conclude by throwing a mudball at one of the three alliance ambassadors: Camore, Arnand Relippe, or Tolendos Dreloth.

Signal Fire Sprint

Travel to the town of Bergama in Alik'r Desert. Speak with Aubatha and then light the four signal fires. Return to speak again with Aubatha.

Snow Bear Plunge

Takes place in Eastmarch. Breda will mark various locations on your map – you must jump from growing heights and into the cold water from each point. Don't forget to warm yourself at the nearby fires afterwards.

Stonetooth Bash

Travel to the Stonetooth Fortress in Betnikh. Speak to Matron Borbuga, who will ask you to gather food for the festivities. Once collected and returned to her, she will ask you to join the feast. Eat, drink, and then politely use that napkin.

The Trial of Five-Clawed Guile

Travel to the town of Rawl'kha in Reaper's March. Speak to Tumira and unlock three nearby chests before the time runs out. Return again to speak to Tumira.

War Orphan's Sojourn

Travel to the Gil-Var-Delle Wayshrine and then follow the compass marker to Ormurrel. He will give you the choice to donate gold or to kill five encroaching creatures to clear the path.
There is a tenth additional daily quest, which is given out by a different NPC: Petronius Galenus. You will also find him at the New Life Festival tent. His quest differs from the ones given by Breda, in that it is about remembering and honoring those who have passed away.
Old Life Remembrance

Speak with Petronius Galenus. He will send you to visit and Old Life shrine in one of the base game zones of Auridon, Bangkorai, Glenumbra, Reaper's March, Stonefalls or The Rift.
Once there, you'll be asked to write a remembrance, light a candle, and then burn the message before returning to Petronius.
New Life Festival Rewards
Event Tickets
The New Life Festival is typically one of the main ESO events in which you can earn tickets to spend at the Impresario! Each day, you can earn three tickets for the first New Life Festival quest you complete. As always, the items which the Impresario stocks changes from year to year. There are often collectables which can be earned and 'assembled' into a desired special mount, furnishing, skin or other game item.
Remember that there is a 12-ticket limit in your inventory, so be sure to spend tickets once you reach the max amount! Otherwise, you may lose out on your tickets for the day.
New Life Festival Gift Box
Each time you successfully complete a New Life Festival daily quest, you'll receive a New Life Festival Gift Box as a reward. Within these cheerful curios, you'll have a chance to receive some of the following goodies:
Guaranteed one of the following items:

A parcel of alchemy, provisioning, or enchanting crafting materials

A chance to receive one of the following items:

2016 New Life Runebox
2017 New Life Runebox
2017 New Life Recipe
New Life Furnishing
Skinchanger Motif Page
Imperial Writ
Skaal Master Writ
Snowball Pet Runebox
Powderwhite Coney Pet Runebox
NEW Evergreen Armor Style Page
Last Year's Nord Carved Armor Style Page

A chance to receive one of the following items:

Frost Miriam
Bervez Juice

A chance to receive a bundle of consumable festival toys
A chance to receive a Skinchanger style item
Crystal Frost Skin
The Crystal Frost Skin can be obtained by completing the Newly Charitable Achievement, which requires the player to complete 12 New Life Charity Writs. These are a specific type of Crafting Writ which are only obtainable during the New Life Festival. The writs will ask you to craft very basic, cheap furnishings. The blueprints, patterns and schematics for those furnishings can be bought for small amounts of gold from Carpenters, Blacksmiths and Clothiers.
Keep in mind that some of these furnishings can only be crafted if you have a certain level of the respective crafting skill line and put skill points in the required passive. The maximum requirements are:
Tailoring 4 (unlocked at Clothing Level 15),
Woodworking 3 (Unlocked at Woodworking Level 10)
Metalworking 2 (Unlocked at Blacksmithing Level 5)
---
Additional Guides:
If you're looking for a one-bar PvE builds click HERE, one-bar PvP builds HERE or one-bar Werewolves builds HERE. Also, consider watching me on TWITCH where you can ask me questions about my current builds.
FOLLOW ME