Whitestrake's Mayhem PVP Event
After much delay The official announcement of the dates for the hotly anticipated ESO Whitestrake's Mayhem PVP Event is here! The event starts next week on Thursday, May 11 and will run for nearly two weeks.
As a PvP based event, all the rewards can be found by participating in combat either in Cyrodiil, Imperial City, and in Battlegrounds. Be sure to check out Deltia's Whitestrake's Event Guide for more information on how to make the most out of this event!
Check out the official ZOS announcement here, or read on below for additional details.
The Mayhem Never Ends!
The Whitestrake's Mayhem in-game event returns Thursday, May 11 at 10AM EDT, and runs until Tuesday, May 23 at 10AM EDT. During this period, you and your fellow adventurers can enjoy big boosts to both your Alliance Point and XP gains while earning awesome in-game rewards by participating in ESO's PvP modes.

ZOS Official Mayhem Announcement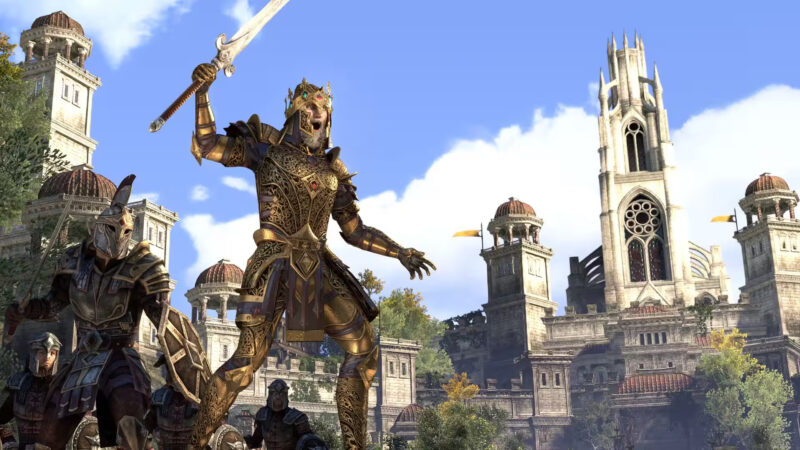 Bonuses
Using the Scroll of Pelinal's Ferocity will grant your character a a two-hour, 100% buff in the Alliance War, Imperial City, and Battlegrounds. This buff will apply to Alliance Points gained and XP gains for PvP player kills.
There will also be a 100% boost to Tel Var Stones gained throughout the course of Whitestrike's Mayhem; no scroll required
Players harvesting nodes in PVP areas will loot extra resources
Rewards
Pelinal's Boon Boxes
As you battle throughout Tamriel, gaining fame and glory beyond compare, you can earn event-specific loot.
House Dufort Banneret Outfit Styles
NEW—Gloamsedge Armor Style
As you compete across Cyrodiil, Battlegrounds, and the Imperial City, you can earn Pelinal's Boon Boxes in addition to your regular Rewards for the Worthy containers and PvP daily quest rewards. You can receive these boxes from participating in the activities listed below:
Battleground quests from Battlemaster Rivyn
Scouting, Battle, Warfront, and Conquest Missions
Elder Scroll capture and recapture quests
Town quests in Vlastarus, Bruma, Cropsford, Cheydinhal, and Chorrol
Imperial City daily quests
Within Boon Boxes, you have the chance to receive the following items:
Parcel of Tel Var Stones
Cyrodiil repair kit
Soul Gems
A guaranteed drop of ONE of the following:

Alchemy ingredients
A style item for your Alliance's armor style
A style item for Akaviri armor style
A Daedric siege weapon
A Whitestrake's Mayhem book furnishing
A Forward Camp for your Alliance
A Chapter of your Alliance's armor motif

There is a small chance that the full book may drop instead of a single chapter

A Prismatic Runestone
A Chapter for the Akaviri armor motif (or very rarely, the full book) (0.5%)

Fragment of the Alliance Breton Terrier pet

There is a small chance you discover two fragments instead of only one

Transmute Geode
Tools of Domination Weapon Style Page
The Golden Vendor
The Cyrodiil merchant Adhazabi, "The Golden" Aba-daro will update her shop's stock to contain jewelry from Cyrodiil's item sets, in CP160 Legendary quality. Aba-daro's Bazaar will offer valuable necklaces during the first weekend of the event and rare rings during the second.
Note that during Whitestrake's Mayhem, Aba-daro will not be selling Monster Masks and all purchases in her shop must be made with Alliance Points. She will not accept gold.
Event Tickets
During this event, you can earn up to three Event Tickets each day by completing two different PvP activities:
Two Event Tickets from the first Cyrodiil or Battleground daily repeatable quest

Note that these can include Bounty Board quests, a Town Daily, the Conquest Board quests, or the daily Battleground quest

One Event Ticket from a District daily quest within the Imperial City
The Impresario merchant will be offering all of the following:
All three Passion Dancer Blossom pet fragments

Chartreuse Lily Petals
Enchanted Silver Flute
Mystical Sheet Music

All three Passion's Muse personality fragments

Bottle of Silver Mist
Delicate Dancer's Baton
Pressed Lily Petal Insoles

The first two Meadowbreeze Memories skin fragments

Bottled Skin Dyes
Ground Jade Lily Powder

Bound Gloamsedge armor style pages
Bag of Veteran's Glory containing one guaranteed drop of a previous Whitestrake's/Midyear rewards that you haven't already collected

Black Drake Clanwrap style pages
Second Legion style pages
Legion Zero style pages
Legion Zero Vigiles pages
Ebonsteel Armor pages
Black Drake's body or face markings
Battle-Scarred body or face markings
Standard-Bearer emotes
Standard-Bearer staves and shields

Group Repair Kits
Companion Guild Commendations for Fighters Guild, Mages Guild, and Undaunted
---
Additional Information:
Thank you for reading our ESO Whitestrake's Mayhem PVP Event May 2023 article! To help prepare for the event, check out our PVP guides and builds with the links below.
FOLLOW ME