Every new Hogwarts student at the age of 11 needs a wand before attending the school of Witchcraft and Wizardry. As a result, they go to a unique shop in Diagon Alley to discover their new companion. It's unclear why and how the wand chooses its owner, but the perfect match can do wonders, cast powerful spells and achieve great things. Each pair is unique and creates relationships often for life. The wands are essential tools in the Harry Potter book series, and the Hogwarts Legacy game is no exception.
Hogwarts Legacy is an immersive, open-world action RPG set in the world introduced in the Harry Potter books. It's pretty easily one of the 2023 most highly-anticipated games. The game takes place at the Hogwarts School of Witchcraft and Wizardry in the 1800s. Players can create their Wizard or Witch and explore the magical open world, attend classes, fly on magical creatures, fight casting spells, make potions and much more.
Wand in Hogwarts Legacy
Each Hogwarts student proceeds through a sorting ceremony, a tradition that assigns them to one of four houses founded by four powerful wizards and witches. Also, each wizard and witch needs a wand, and they receive their first wand during the Wand Ceremony in Hogwarts Legacy. We know two methods:
The player starts a game as a 5th-year student with a second-hand wand for reasons I won't spoil in this guide. However, as you will progress through the story, eventually, players will be able to choose the wand, a companion that will be with them for the rest of the game.
Don't worry you'll have complete control over it.
Your protagonist will visit the famous Ollivander's Wand shop and will try various wands before the perfect one reveals itself. After a cutscene and interesting conversation with Mr Gerbold Ollivander, players will automatically enter the wand customisation menu, where they can adjust:
The style that represents the Wand's shape:

Wood Color:

The colors are different for each wand shape, but between options are almost every possible wood shades, grey, black and white.

The "wood type":

the Wand's wood – there are 38 options to choose from!

Acacia
Alder
Apple
Ash
Aspen
Beech
Blackthorn
Black Walnut
Cedar
Cherry
Chestnut
Cypress
Dogwood
Ebony
Elder
Elm
English Oak
Fir
Hawthorn
Hazel
Holly
Hornbeam
Larch
Laurel
Maple
Pear
Pine
Poplar
Red Oak
Redwood
Rowan
Silver Lime
Spruce
Sycamore
Vine
Walnut
Willow
Yew

Length:

from 9.5 inches (24 cm) to 14.5 inches (37 cm)

Flexibility

Wand core:

Dragon Heartstring – Known for producing powerful magic.
Unicorn Hair – Known for producing consistent magic.
Phoenix Feather – Capable of producing a great range of different magic.
However, if you want to add a little randomness to your decision, you can now determine your Hogwarts Legacy House and Wand! All you need to do is create an account on Wizarding World and connect it with WB Games Account. Then complete the enjoyable and short Sorting Ceremony quiz and Wand Ceremony quiz. The detailed guide on how to do it you can find here.
How to receive Hogwarts Legacy free rewards?
Also, if you link your WB Games Account and Wizarding World account, you will unlock some free accessories in Hogwarts Legacy right now, including a stylish new robe, mask and more!
Wand specifications
Every wand is unique and will depend on its user's character, matching the wood it's made of and the creature in its core. Wand chooses the wizard or witch and becomes a partner that learns and evolves to work and match perfectly. Not all trees can be used to produce wands; in fact, a minority of them. The same goes for creatures that were used for a wand's core. Another factor that describes the wand is its length and flexibility.
Wand customisation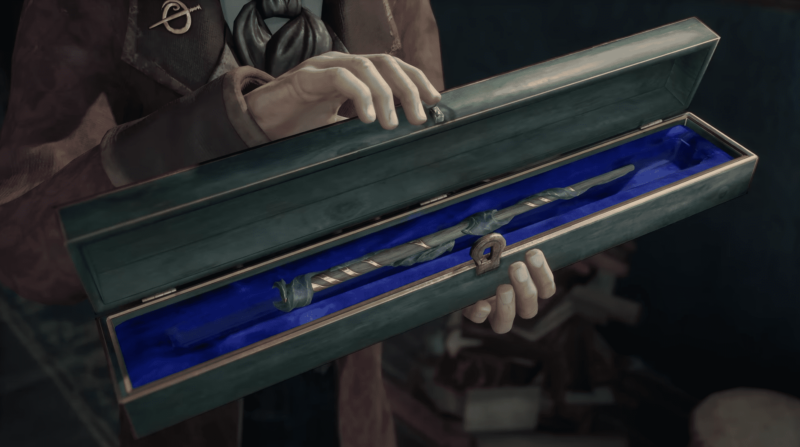 During the Wand Ceremony, players can select and customise their wands to match the style and character of their protagonist. If you would like to make an evil dark wizard, a cute 5th-year student or a geeky, ambitious wizard or witch, you shouldn't be disappointed. However, after the choice, it is impossible to change it, so make your decision carefully in the game.
Wand customisation – Handles
Players can collect the various handles for their wands, and it's the only part they can change and swap at any time. Access your Wizards Guide Menu and pick the Gear category. Wand Handles are one of the slotabble items.
Can you change the wand in Hogwarts Legacy?
You can't change the wand after accepting your choice during the wand ceremony in Hogwarts Legacy. Wands are wizards' and witches' essential tools and serve the same role as in books. As a result, if you would like to change your wand, you'll need to create a new character and start your playthrough from the beginning.
What's The Best Wand In Hogwarts Legacy?
All options are purely cosmetic and don't impact the gameplay. However, if you are a roleplayer, I would suggest Dragon Heartstring core, as it's known for producing powerful magic. It isn't something you must do, and you can finish the game at any difficulty, regardless of your wand choice. They don't provide any bonuses. I advise you to choose anything that fits your protagonist or yourself.
Thank you for reading the Hogwarts Legacy Wand Guide and Customisation!
More information
Hogwarts Legacy has fans of the magical world of Harry Potter looking forward to February with high hopes. As we get closer to the release date, the developers continue to reveal more about what we can expect to see in the game. On November 11 2022, the new Hogwarts Legacy Gameplay was revealed during the official AvalancheSoftware Studio stream, and developers had a lot of exciting information to share with us; click HERE for more about Hogwarts Legacy Gameplay!
Hogwarts Legacy launches on:
February 10, 2023, for PlayStation 5, Xbox Series X|S and PC
April 4, 2023, for PlayStation 4 and Xbox One
July 25, 2023, for Nintendo Switch
Interested in Hogwarts Legacy? Use our link and support the site (affiliate link commission earned). Come watch me play the game on twitch at tv/deltiasgaming and ask questions or visit my YouTube channel!
---
Top Hogwarts Legacy Articles: