Table of Contents
Destiny 2 Arc Warlock PvE Build
Welcome to the Destiny 2 Arc Warlock PvE Build. This Class has the potential to be the best Mob Clear class in the game. Arc Warlock can be very helpful when you need to do some crowd control. We will also be making tons of orbs of power with this build you will be a battery for your teammates.
Last Updated March 4, 2023, for Lightfall Expansion and Season 20, Season of Defiance.  Destiny 2 has gone through a major change with their modding system.  Making mods much easier and simpler to understand but taking some of the old metas and either eliminating them or making them relevantly the same.  For instance, the "well" mods most players have been accustomed to have been completely eliminated and really the only system and combination are based of orbs of power. The mod loadout you see today will change over time as we become accustomed to new and shifting meta in Destiny 2 Lightfall.  This loadout has been tested and works, so check back frequently as we will be updating these builds throughout the season and expansion.
| | |
| --- | --- |
| Pros | Cons |
| Fast Movement | Not the best super for Dealing with champions |
| Chain damage | Super not great for Boss damage |
| Ability Focus | melee focused |
| Synergy with Arc Weapons | |
| Orb of Power Generation | |
| Great add clear | |
| | |
| | |
Arc Warlock Playstyle
Ability Playstyle:  Your main priority when you get in combat is to become Amplified, use your grenade or melee to get an ionic trace and become Amplified. During this time focus on taking care of the red bar enemies; they are the easiest to kill and you can do it better than all the other classes do to your chain melee ability. Cast your rift to call upon an arc soul that allows you and your allies to have a personal mini turret. If you happen to get swarmed by adds use your super it has a great casting aoe attack to give you some breathing room. So long as you maintain your crown of tempest buff all of your abilities will be recharging quicker.
How to gain armor charge
you need to get Orbs of power this guide will show you mods, weapons, and fragments we use to generate orbs. Armor charges are fully expended  upon use.
The Raid Setup
Your Job as an arc warlock to make sure no one in your group is surrounded by enemies. Give everyone an Arc soul so they have more survivability. Use your rift right before the damage phase to add extra damage to the whole team, its free damage for just pressing one button. Focus on keeping your rift up at all times. While you are amplified you can provide orbs of power thanks to your fragments. This allows your teammates to get their supers faster and be ready for the next damage phase of the boss.
Arc Soul
Cast your Rift to create an Arc Soul that fires at targets in front of you. Allies can pass through your Rift to get an Arc Soul. Your Rift charges faster when allies are near.
While amplified, your Arc Souls are supercharged and gain increased fire rate.
This ability is super helpful; you get A FREE PERSONAL TURRET just by using your rift not to mention that your allies also get one too. Make sure to be amplified to empower the arcsoul.
Amplified
When you are granted the Speed Boost buff so long as you keep sprinting you will not lose it even if Amplified is gone Speed Boost remains.
Speed Boost Grants a passive damage reduction buff Only while sprinting.
Abilities
| | | | |
| --- | --- | --- | --- |
| Healing Rift | | Pulse Grenade | Chain Lightning |
Aspects

Arc Soul


Electrostatic Mind

Fragments

Spark of Feedback


Spark of Amplitude


Spark of Recharge


Spark of Resistance

Gear
Kinetic Weapons
| Recommended Kinetic Weapons | Suggested Perk 1 | Suggested Perk 2 |
| --- | --- | --- |
| Witherhoard | Primeval's Torment | Break the Bank |
| Arbalest | Compounding Force | Disruption Break |
| Krait | Subsistence | Adagio |
Energy Weapons
| Recommended Energy Weapons | Suggested Perk 1 | Suggested Perk 2 |
| --- | --- | --- |
| IKELOS_SMG_v1.0.3 | Feeding Frenzy | Voltshot |
| Tarnished Mettle | Rapid Hit | Voltshot |
| Forbearance | Ambitious Assassin | Chain Reaction |
Heavy Weapons
| Recommended Heavy Weapons | Suggested Perk 1 | Suggested Perk 2 |
| --- | --- | --- |
| Stormchaser | Rapid Hit | Firing Line |
| Gjallarhorn | Wolfpack Rounds | Pack Hunter |
| Thunderlord | Reign Havoc | Feeding Frenzy |
Exotic Armor
| Exotic Armor | Exotic Perk |
| --- | --- |
| Crown of Tempests | Conduction Tines |
Armor Stats
Stat distribution number goals
Mobility – 0 - 20
Resilience – 60 - 100 (higher is fine if you've hit other markers)
Recovery – 100   ( This is warlock main stat which also lowers your class ability cooldown)
Discipline – <30
Intellect –  <30 (higher is fine if you've hit other markers)
Strength – 60 - 100
[caption id="attachment_30844" align="aligncenter" width="486"]
Resilience Tier 8 Lightfall Destiny 2[/caption] Resilience Changes: The resilience stat was heavily nerfed in Lightfall expanse and now only receives 30% damage reduction at 100 stat.  Outside of Titan builds, your goal is tier 8 (80 stats) to get good damage reduction without wasted stats.
Important Mods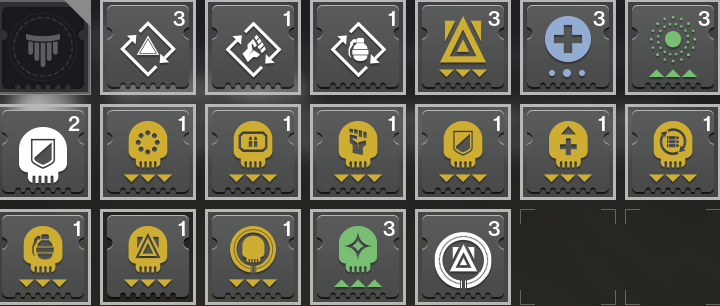 Armor Modification Change: these mods will seem foreign to returning players with Lightfall changing the entire system.  The system you build around now is only orbs of power.  You also see an armor charge mechanic and some of the previous mechanics for generating orbs of power and previously used mods.  This system is evolving, and we will continue to make changes as we gain a better understanding of the new mod system. Here's a list of all the current armor mods.
Artifice Armor Change: provides an extra +3 to whatever stat you want this should help you reach these stat goals.
Artifact Change: The artifact no longer provides mods instead it reduces the costs of some of the mods and provides passives as you level up and unlock them.  Season 20 Artifact.
If you do not have the energy for the suggested mods, adjust and prioritize your main stat-boosting mod and anything that generates orbs, followed by something that consumes orbs of power and generates armor stacks.
Head

Resilience Mod

Head

Hands-On
Gain bonus Super energy on melee kills.
Head

Kinetic Siphon
Rapid Kinetic weapon final blows create an Orb of Power.
Head

Harmonic Siphon

Arms

Resilience Mod

Arms

Melee Kickstart
When your melee energy is fully expended, you gain melee energy. Additionally, your Armor Charge is consumed and you gain additional melee energy for each stack.
Arms

Heavy Handed
Your powered melee final blows create Orbs of Power. Will help us make more orbs of power
Chest

Recovery Mod

Chest

Charged Up
Increases the maximum number of stacks of Armor Charge you can carry by 1.
Chest

Concussive Dampener
Reduces incoming area-of-effect damage from combatants.
Legs

Recovery Mod

Legs

Stacks on Stacks
Picking up an Orb of Power grants you 1 additional stack of Armor Charge.
Legs

Better Already
Your health begins to regenerate immediately after picking up an Orb of Power.
Legs

Invigoration
Reduces melee cooldown each time you pick up an Orb of Power.
Class

Strength Mod

Class

Outreach
Reduces melee cooldown when using your class ability.
Class

Outreach
Reduces melee cooldown when using your class ability.
Class

Distribution
Reduces all ability cooldowns when using your class ability near targets. Needs to be used near enemies to get the buff
Thanks for reading our Destiny 2 Arc Warlock PvE Build.  Make sure to check the links below for more content!
Make sure to check the links below for more content!   If you want to see more of Destiny 2 this week's action, consider watching me live at twitch.tv/deltiasgaming and checking out the website for more guides (click), Beginner Builds and End-game PvE Builds.
FOLLOW ME