Table of Contents
Destiny 2 Strand Hunter Solo Build
Welcome to our Destiny 2 Strand Hunter Solo Build Guide!  Strand Hunter's wields new Darkness power, a subclass that visually appears as green energy. Just like any subclass in Destiny 2, Strand will have skills, super, aspects and fragments to further strengthen the guardian's power. Each class will use Strand differently.
Last Updated March 19, 2023, for Lightfall Expansion and Season 20, Season of Defiance.  This build is currently a work and progress with updates happening daily.  Additionally, Destiny 2 has gone through a major change with their modding system.  Making mods much easier and simpler to understand but taking some of the old metas and either eliminating them or making them relevantly the same.  For instance, the "well" mods most players have been accustomed to have been completely eliminated and really the only system and combination are based of orbs of power. The mod loadout you see today will change over time as we become accustomed to new and shifting meta in Destiny 2 Lightfall.  This loadout has been tested and works, so check back frequently as we will be updating these builds throughout the season and expansion. 
| | |
| --- | --- |
| Pros | Cons |
| Silkstrike does tons of damage | Tangle is on a long cooldown |
| Grapple is fun and offers great mobility | Melee Does not benefit from melee kickstart mod |
| Woven mail makes you very tanky | Have to Beat the Light Fall campaign |
| Has great single target abilities | Abilities Locked behind strand meditation resource |
| Strong AOE with Tangle | No subclass source of healing |
How to Unlock Strand Subclass 
To get the Strand subclass, you must own Ligthfall expansion and complete the entire main campaign to get access to all abilities. Additionally, to unlock Strand aspects and fragments, players must buy them from the special vendor, the Pouka Pond, with new currency.
Buy Destiny 2 Lightfall expansion on your preferred platform
Start the Destiny 2 Lightfall campaign – Go to the directory menu, pick Neptune planet from the side of the screen and hovering over it will display a pop-up about the Lightfall campaign. Proceed and select the difficulty to start the Lightfall campaign.
Follow the story and the questline to complete the Lightfall campaign
After completing the campaign, go to the Tower to meet with Zavala and Ikora
Come back to the Hall of Heroes on Neomuna
Meditate to unlock the Strand subclass and your first abilities
Go to the Pouka Pond to get additional Strand Grenades, Aspects and Fragments
The full guide can be FOUND HERE for step-by-step details.
Playstyle
As with most hunter gameplay, our strength is our agility. The ability to move in and out of a fight dealing large amounts of damage and then getting to safety has always been our strong suit. The subclass leans heavily into this by giving us a second grenade charge allowing us to grapple continuously for free movement. We also gain an air move allowing us to dive into the ground and suspend any nearby enemies, keeping us safe and allowing us to deal damage while taking very little ourselves. Our melee isn't the strongest but it is ranged and you can reactivate your melee to catch it and return melee energy back to you for some extra damage. While grappling towards enemies, we can also perform a powerful area of effect powered melee attack when paired with our exotic choice this becomes incredibly strong. Our main focus is to be grappling and powered meleeing, if we don't have our grapple we will instead be finishing enemies which can give us our grenade energy back. This allows us to cycle our abilities constantly giving us good survivability and damage. Let it be noted that strand hunter is one of the more difficult option for solo hunter builds due to having no source of subclass healing. Until understanding the build and how we maximize its strengths, this build can be difficult to grasp and perfect unlike others.
If we see an orb of power, we want to pick it up. This will give us healing, ability energy, super energy, armor charges, and make our weapons hit hard depending upon our mods. Since Bungie homogenized the mod system, some mods are more interchangeable depending on content and planned usage.
Author's Note: Both Strand and the new Loadout and Mod system are very new. So it stands to reason, that there are combinations that haven't been tested yet. These builds are very much a Work in Progress but have been tested and are effective. They will almost certainly be updated as time goes on. Additionally, the new Artifact system is currently not supported on our build templates so listed below are important Artifact mods to take until we are able to update our build template.
Abilities
| | | | |
| --- | --- | --- | --- |
| Gambler's Dodge | Triple Jump | Grapple | Threaded Spike |
Aspects

Widow's Silk


Ensnaring Slam

Fragments

Thread of Finality


Thread of Warding


Thread of Generation


Thread of Propagation

Gear
Kinetic Weapons
| Recommended Kinetic Weapons | Suggested Perk 1 | Suggested Perk 2 |
| --- | --- | --- |
| Quicksilver Storm | Grenade Chaser | Rocket Tracers |
| Synchronic Roulette | Pulse Monitor | Hatchling |
| Witherhoard | Break the Bank | Primeval's Torment |
Energy Weapons
| Recommended Energy Weapons | Suggested Perk 1 | Suggested Perk 2 |
| --- | --- | --- |
| Iterative Loop | Compulsive Reloader | Voltshot |
| Ecliptic Distaff | Replenishing Aegis | Close to Melee |
| Prodigal Return | Disorienting Grenades | Envious Assassin |
Heavy Weapons
| Recommended Heavy Weapons | Suggested Perk 1 | Suggested Perk 2 |
| --- | --- | --- |
| Circular Logic | Envious Assassin | Hatchling |
| Two-Tailed Fox | Play with Your Prey | Twintails |
| The Lament | Revved Consumption | Banshee's Wail |
Exotic Armor
| Exotic Armor | Exotic Perk |
| --- | --- |
| Assassin's Cowl | Vanishing Execution |
| Wormhusk Crown | Burning Souls |
Armor Stats
[caption id="attachment_30290" align="aligncenter" width="720"]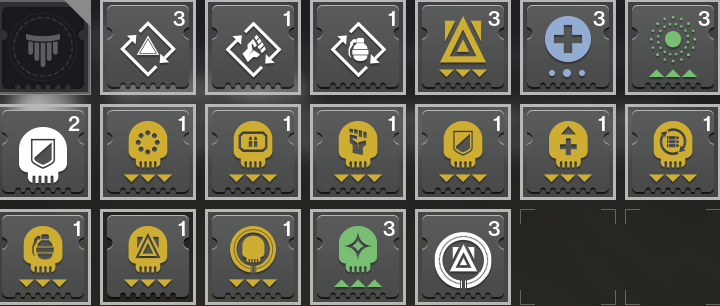 Destiny 2 Lightfall Class Mods[/caption] Armor Modification Change: these mods will seem foreign to returning players with Lightfall changing the entire system.  The system you build around now is only orbs of power.  You also see an armor charge mechanic and some of the previous mechanics for generating orbs of power and previously used mods.  This system is evolving, and we will continue to make changes as we gain a better understanding of the new mod system. Here's a list of all the current armor
mods
. Artifice Armor Change: provides an extra +3 to whatever stat you want this should help you reach these stat goals. Artifact Change: The artifact no longer provides mods instead it reduces the costs of some of the mods and provides passives as you level up and unlock them. 
Season 20 Artifact
. If you do not have the energy for the suggested mods, adjust and prioritize your main stat-boosting mod and anything that generates orbs, followed by something that consumes orbs of power and generates armor stacks.
Important Mods
Our armor mods are selected to perform certain tasks and as such on this build shouldn't really be switched in and out. There are a couple of options that are customizable such as siphon mods and resilience mods on the chest piece but other mods have been selected because they pair well with the goal of the build and shouldn't be replaced unless you are fine reducing the performance of our build.
Head

Mobility Mod

Head

Hands-On
Gain bonus Super energy on melee kills.
Head

Hands-On
Gain bonus Super energy on melee kills.
Head

Harmonic Siphon

Arms

Mobility Mod

Arms

Heavy Handed
Your powered melee final blows create Orbs of Power.
Arms

Impact Induction
Causing damage with a melee attack reduces your grenade cooldown.
Arms

Impact Induction
Causing damage with a melee attack reduces your grenade cooldown.
Chest

Mobility Mod

Chest

Concussive Dampener
Reduces incoming area-of-effect damage from combatants.
Chest

Charged Up
Increases the maximum number of stacks of Armor Charge you can carry by 1.
Legs

Mobility Mod

Legs

Recuperation
Replenishes health each time you pick up an Orb of Power.
Legs

Innervation
Reduces grenade cooldown each time you pick up an Orb of Power.
Legs

Stacks on Stacks
Picking up an Orb of Power grants you 1 additional stack of Armor Charge.
Class

Mobility Mod

Class

Restorative Finisher
Collecting an Orb of Power causes you to gain 1 temporary Armor Charge.\nWhen you use a finisher, you gain a portion of energy for your least-recharged ability. Consumes 2 stacks of Armor Charge.
Class

Proximity Ward
Gain a powerful overshield while performing your finisher.
Class

Empowered Finish
Finisher final blows grant you 1 temporary Armor Charge when you have none.
Thanks for reading our Destiny 2 Strand Hunter Solo Build!
Make sure to check the links below for more content!   If you want to see more of Destiny 2 this week's action, consider watching me live at twitch.tv/deltiasgaming and checking out the website for more guides (click), Beginner Builds and End-game PvE Builds.
FOLLOW ME