Table of Contents
Destiny 2 Void Warlock PvE Build
Welcome to the Destiny 2 Void Warlock PvE Build! You have finally managed to Reach Endgame and don't wanna embarrass yourself or let your team down. This guide will show you how to become The Ultimate Endgame Void warlock. This build and guide works for Raids and Nightfall strikes even Grandmasters. Void warlock requires practice and being able to keep your Devour up is important.
Last Updated March 5, 2023, for Lightfall Expansion and Season 20 (Season of Defiance).  Destiny 2 has gone through a major change with their modding system.  Making mods much easier and simpler to understand but removing some old playstyles.  For instance, the "well" mods most players have been accustomed to have been completely eliminated.  Now all that remains is "orbs of power" builds.  The mod loadout you see today will change over time as we become accustomed to new and shifting meta in Destiny 2 Lightfall.  This loadout has been tested and works, so check back frequently as we will be updating these builds throughout the season and expansion.
| | |
| --- | --- |
| Pros | Cons |
| High survivability with Devour | Melee ability is bad |
| Debuff enemies | Warlock jump is hard to master |
| Lots of explosions | |
| Low Cooldown Super | |
| High Regen | |
Void Warlock Playstyle
Child of the Old Gods: After casting your rift the Child of the Old Gods will appear and be ready to serve you and your allies. Child of the old gods will go to where you shoot at an enemy and create an area where everything becomes debuffed and tether damage to each other. If you stand in a Healing Rift you will get your abilities back with a buff called Void Soul Vampirism so long as you are killing enemies. If standing in an Empowering Rift you will gain health back.  Make sure to use healing rift due to the fact that you have Devour in the build which heals you.
Ability Playstyle: this style is all about getting your abilities back, debuffing enemies and staying alive. Play with your Rift and throw grenades and use Child of the Old Gods to get your abilities back and keep those mobs from getting you and your friends. Devour is your best friend when you see that buff go for the kill Devour will always refresh on kill if enemies keep spawning keep killing them who is going to stop you if your health keeps getting full.
Gun Playstyle Combined with Echo of Instability:  you are probably wondering why there are lots of void weapons. The fragment Echo of Instability allows us to buff those weapons that have void damage. When we are in combat and throw a grenade we get a buff called volatile rounds. That buffs allows your void weapons to apply the debuff Volatile. This debuff causes lots of extra damage on top of what you would normally do and it happens to be aoe damage. In short throw a grenade you see the buff volatile rounds and OPEN FIRE until they are dead.
Raid/High Level Content Advice: void warlock is often looked down upon because Titan And hunter have better Damaging supers. Do not let this discourage you Void Warlock has Group utility. You can always debuff a boss or champion because when you are fighting them you will most likely by instinct drop a Rift and that rift happens to have Child of the Old Gods which can DEBUFF ANY MOB in the game.  Also you can use volatile rounds to buff the damage of your heavy weapon when you fight any boss.
Abilities
| | | | |
| --- | --- | --- | --- |
| Healing Rift | Burst Glide | Suppressor Grenade | Pocket Singularity |
Aspects


Child of the Old Gods



Feed the Void

Fragments


Echo of Persistence


Echo of Vigilance



Echo of Instability



Echo of Expulsion

Gear
Kinetic Weapons
| Recommended Kinetic Weapons | Suggested Perk 1 | Suggested Perk 2 |
| --- | --- | --- |
| Witherhoard | Primeval's Torment | Break the Bank |
| Pardon Our Dust | Auto-Loading Holster | Vorpal Weapon |
| Arbalest | Compounding Force | Disruption Break |
Energy Weapons
| Recommended Energy Weapons | Suggested Perk 1 | Suggested Perk 2 |
| --- | --- | --- |
| Collective Obligation | Void Leech | Umbral Sustenance |
| Funnelweb | Subsistence | Frenzy |
| Doom of Chelchis | Explosive Payload | Frenzy |
Heavy Weapons
| Recommended Heavy Weapons | Suggested Perk 1 | Suggested Perk 2 |
| --- | --- | --- |
| Taipan-4fr | Triple Tap | Firing Line |
| Crowd Pleaser | Clown Cartridge | Chain Reaction |
| Commemoration | Reconstruction | Killing Tally |
Exotic Armor
| Exotic Armor | Exotic Perk |
| --- | --- |
| Nezarec's Sin | Abyssal Extractors |
Armor Stats
Stat distribution number goals
Mobility – 0 - 20
Resilience  <80
Recovery – 100 ( This is warlock main stat which also lowers your class ability cooldown)
Discipline – 10 - 50
Intellect – 80 - 100
Strength – 0 - 20
[caption id="attachment_30844" align="aligncenter" width="486"]
Resilience Tier 8 Lightfall Destiny 2[/caption] Resilience Changes: The resilience stat was heavily nerfed in Lightfall expanse and now only receives 30% damage reduction at 100 stat.  Outside of Titan builds, your goal is tier 8 (80 stats) to get good damage reduction without wasted stats.
Important Mods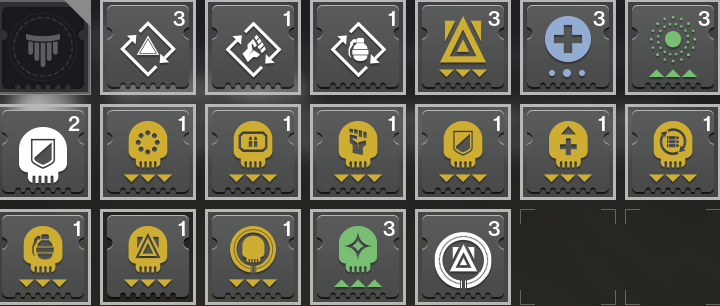 Armor Modification Change: these mods will seem foreign to returning players with Lightfall changing the entire system.  The system you build around now is only orbs of power.  You also see an armor charge mechanic and some of the previous mechanics for generating orbs of power and previously used mods.  This system is evolving, and we will continue to make changes as we gain a better understanding of the new mod system. Here's a list of all the current armor mods.
Artifice Armor Change: provides an extra +3 to whatever stat you want this should help you reach these stat goals.
Artifact Change: The artifact no longer provides mods instead it reduces the costs of some of the mods and provides passives as you level up and unlock them.  Season 20 Artifact.
If you do not have the energy for the suggested mods, adjust and prioritize your main stat-boosting mod and anything that generates orbs, followed by something that consumes orbs of power and generates armor stacks.
Head

Recovery Mod

Head

Harmonic Siphon

Head

Harmonic Siphon

Head

Harmonic Siphon

Arms

Recovery Mod

Arms

Void Loader
Increases reload speed of Void weapons.
Arms

Momentum Transfer
Causing damage with a grenade reduces your melee cooldown.
Arms

Fastball
Increases grenade throw distance.
Chest

Resilience Mod

Chest

Concussive Dampener
Reduces incoming area-of-effect damage from combatants.
Chest

Sniper Damage Resistance
Reduces incoming damage from combatants that are at long range.
Legs

Resilience Mod

Legs

Void Weapon Surge
Collecting an Orb of Power causes you to gain 1 temporary Armor Charge.\nYour Void weapons gain a small bonus to damage while you have any Armor Charge. Your Armor Charge now decays over time.
Legs

Void Weapon Surge
Collecting an Orb of Power causes you to gain 1 temporary Armor Charge.\nYour Void weapons gain a small bonus to damage while you have any Armor Charge. Your Armor Charge now decays over time.
Class

Resilience Mod

Class

Time Dilation
Your decaying Armor Charge has a longer duration.
Class

Distribution
Reduces all ability cooldowns when using your class ability near targets.
Thanks for reading our Destiny 2 Void Warlock PvE Build. Make sure to check the links below for more content!
If you want to see more of Destiny 2 this week's action, consider watching me live at twitch.tv/deltiasgaming and checking out the website for more guides (click), Beginner Builds and End-game PvE Builds.
FOLLOW ME