The Hogwarts Legacy Character Creation allows players to design the appearance of their protagonists and experience the world how they desire!
In the guide, we take a closer look at the game's features, options and mechanics that help players design their students. We also explain what and how you can change your student after you start the game.
We put a lot of work into this feature to allow players to create any character or even represent themselves.

Game Detector Alan Tewshowed
Last updated April 25, 2023. Players can enjoy Hogwarts Legacty for a couple of weeks now, and more details and secrets are uncovered each day. We updated the guide to provide the latest information about Character creation and appearance.
The protagonist in Harry Potter world vs the Character in Hogwarts Legacy
As in many RPG games, in Hogwarts Legacy, players must create their protagonist before starting an adventure. No matter how much time you like to spend in the Character Creation menu, It is essential as your Hogwarts student will accompany you through the whole game at every step. After the start of the game, there are certain character options players can change later, but not all of them. So keep that in mind while you'll create your wizard or witch. Read on
The second reason Hogwarts Legacy Character creation is so important, it's related to the lore and the Harry Potter book series. Each Hogwarts student proceeds through a sorting ceremony, a tradition that assigns them to one of four houses. It's more than just an organisation tool. The houses Gryffindor, Hufflepuff, Slytherin and Ravenclaw reflect students' personalities, strengths and even destinies. So it's crucial to allow players to inhabit this fantasy world with protagonists that reflect how they intend to play.
Character Creation in Hogwarts Legacy – Details
The character creation menu has fantastic options allowing players to create their perfect protagonist. You can create anything you desire, cute-looking, geeky-looking or spooky-looking characters, and even try to recreate yourself! And though the character models have a great graphical fidelity to them, the character creation options were unfortunately quite limited compared to games like Dragon Age Inquisition or Cyberpunk 2077. However, I am amazed by the models' detail and intuitive UI.
Presets
Firstly, players can choose from preset characters and quickly move to the gameplay or use it as a starting point and customise further. It's a menu that speeds up the process or can make it easier if you choose a character that most resemble your ideal student. Moreover, look at the impressive detail on facial structures and light reflections on the hair. The characters look gorgeous in the picture below.
Facewear
Nextly, there is a tab called Facewear. Here, players can pick a face shape, skin color and whether they want to use accessories. Although there are many face-shape options, this part is disappointing. Choosing a whole face rather than adjusting separate parts feels like selecting a preset. However, the game offers a wide diversity of shapes and skin colors, making up for the lack of detailed customisation.
In the glasses section are Harry Potter's signature round glasses, there isn't Harry Potter's scar available, but maybe it's still possible to create Harry Potter in Hogwarts Legacy? I think I'll pick the moon-shaped glasses for my character. For now, only three glasses options were shown during the gameplay showcase. However, As a part of "gear-picking", there will be more accessories to discover and unlock throughout the Hogwarts Legacy journey.
Speaking off, you can receive in-game a unique Beaked Skull Mask and a House Fan-atic School Robe by liking your Wizarding World and Hogwarts Legacy accounts. It's all done with a couple of simple steps and will allow you to pre-release pick your Hogwarts house and wand, then transfer it to the game. More about rewards HERE.
Hairstyle
This tab in the character menu is self-explanatory. Players can pick one of the dozens of hairstyle options and a wide selection of colors. From long to short hair. From natural shades to unique ones. None of those choices is restricted by gender.
Complexion
Among the customisation options here, the game allows players to pick the complexion, freckles, moles and even scars. Some of those small facial details have unusual and creative shapes that should allow players to make the character with a truly unique and personalised look. Maybe just like Harry Potter, your student will wear a notable scar from the past or will be born with a mark that is more than just a cute attribute on their face.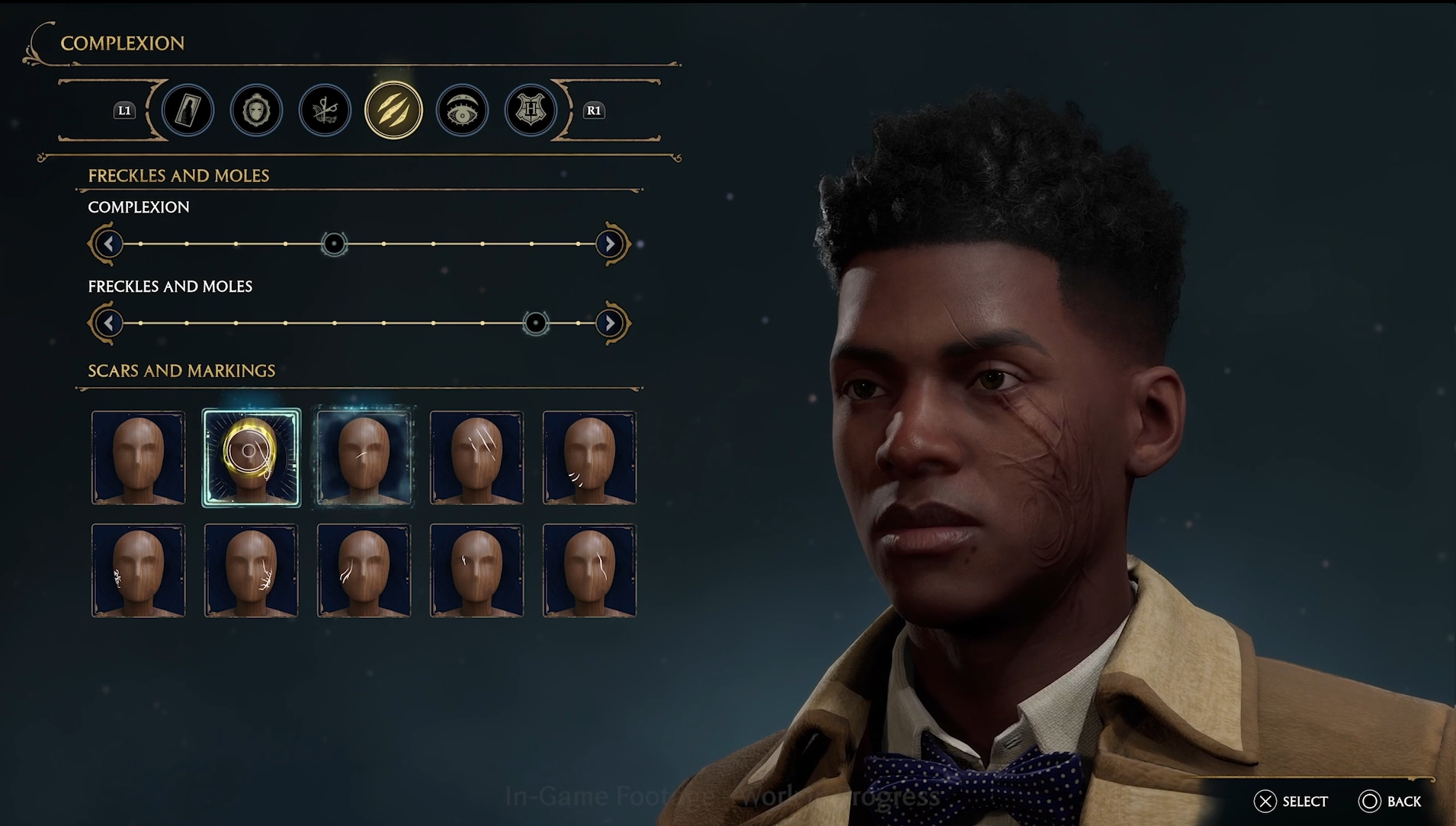 Eyebrows
The next tab allows players to adjust three more details, to finalise their student look. The eyebrow shape and color, as well as one of many eye colourings.
Finalise your Character
Players can finalise their character creation with a voice section and pitch adjustment to make them even more unique. There are two voices available, one more feminine sounding and one more masculine sounding.
The Hogwarts Legacy doesn't limit players' choices with gender or gender-specific options. Regardless of your previous choices, you can select whether your character will be staying in the witches' or wizards' dormitories.
There are four difficulties: story, easy, normal or hard, so pick what type of gameplay you want to experience and what best suits your playstyle.
Lastly, there is the matter of your student's name, and then it's time to start the epic journey in the magical world from the Harry Potter book series.
Hogwarts Legacy: Character Creation – Conclusion
As far as we know, in Hogwarts Legacy, there are no ways to make the character more powerful through character creation, mainly designed for roleplaying, until the last tab, where players can choose one of 4 difficulties: story, easy, normal or hard. For me, it is another plus and the game's replayability potential.
Many character creation enthusiasts will be satisfied with Hogwarts Legacy's options. It's robust and features many possibilities for players to experiment with, allowing truly immerse themselves into Harry Potter's world.
How to Change a Character's appearance after leaving the Character Creation menu?
To change your protagonist's appearance, open the map and pick Hogsmeade. Nextly look for a scissors icon, as shown in the picture above, and head to Madam Snelling's Tress Emporium. Talk to Madam Snelling, and you'll be charged 20 gold per visit regardless of what you'll change in your character. You won't need to pay if you discard changes and leave the menu. The things you can change:
Hair
Hair color
Complexion
Freckles and Moles
Eye color
Eyebrows shape
Eyebrows color
Scars and Markings
How to change my Robes and Accessories in Hogwarts Legacy
You can change your robes and accessories at any time during the game. As you progress and collect items, you'll unlock more fantastic cosmetics. Every gear item you pick will also be added to your collections, so you can safely sell gear you don't need and put a skin on your new gear with the same look.
Change the look of your gear, like scarves, robes or glasses, any time in the game while keeping the best stat gear equipped. Open your gear menu, hover over the gear you want to change, and, as you can see in the picture below, click the option: "change appearance."
It will take you to a separate menu where you can pick a new skin from all items you collected since the beginning of the game, even if you sold some of them. It's like a skin you put over a gear item to change its look.
Additionally, don't forget to check all categories in the challenges menu occasionally. Completed achievements also can reward you with new robes, gear pieces or furniture for your Room of Requirement. The picture below shows my challenges menu and rewards I can collect for completed quests.
Where can I find more appearance items and collectibles?
If you are a collector like me and often customise your character, I suggest exploring the game and checking every chest. Specifically, good places to look for are hidden rooms behind the Puzzle door (Puzzle Door Guide Here). Also, when looking for the next quest to follow, check the rewards it offers because many missions in Hogwarts Legacy reward players with new wand handles, robes and more!
---
More Hogwarts Legacy Articles and Guides
Thanks for reading Hogwarts Legacy: Character Creation Guide! Also, watch me play the game on Twitch and ask questions or visit my YouTube channel!
Top Articles:
---
Looking For More About Hogwarts Legacy?
Thank you for reading "" Guide. We provide the latest news and create guides for Hogwarts Legacy. Also, watch me play games on Twitch or visit my YouTube channel!