In order to get the Quicksilver Storm Exotic Catalyst, you need to complete the "Any Data Point in the Storm" mission. This quest is found on Neomuna and you must own the Quicksilver Storm Auto Rifle in order to acquire it.
How to Obtain the "Any Data Point in the Storm" Mission
In order to obtain the "Any Data Point in the Storm" mission, you need to have the Quicksilver Storm auto rifle and progress to a certain point in the Lightfall campaign. Then you can acquire the quest from the Holoprojector at Strider's Gate on Neomuna.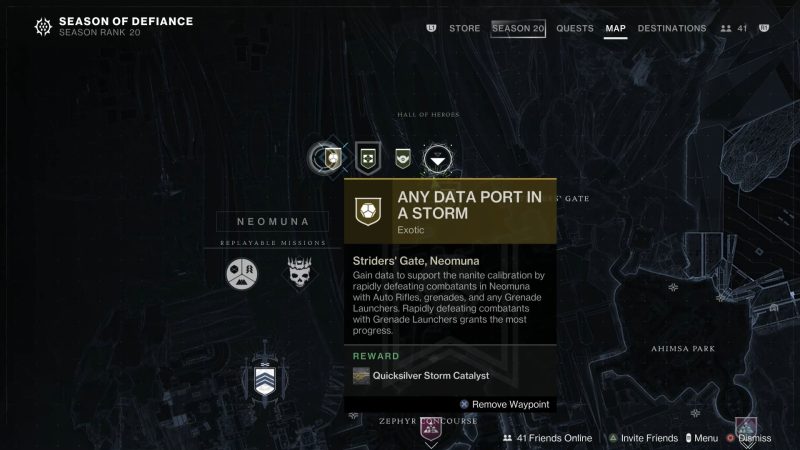 How to Complete the Catalyst Quest
Step 1 of the "Any Data Port in a Storm" mission states "Gain data to support the nanite calibration by rapidly defeating combatants in Neomuna with Auto Rifles, grenades, and any Grenade Launchers. Rapidly defeating combatants with Grenade Launchers grants the most progress." In order to complete this quest quickly, simply equip any Auto Rifle (Quicksilver Storm works here of course), any special Grenade Launcher, and any heavy Grenade Launcher and just kill as many enemies as possible.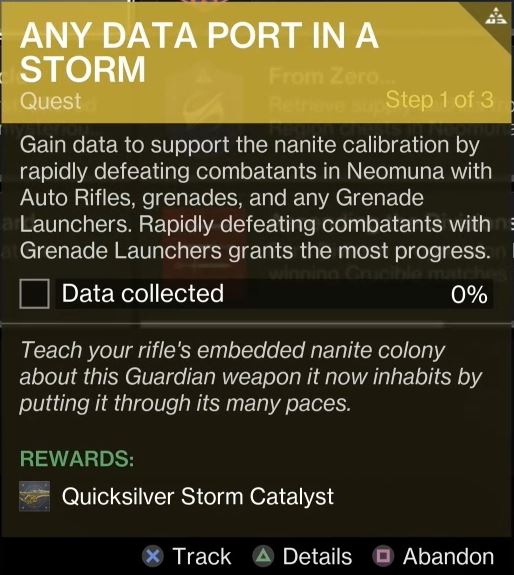 Once you get the bar to complete, you just need to go visit Banshee-44. Go to the tower and visit with the old Gunsmith.
After visiting Banshee-44, the mission states that you need to "Defeat combatants in Neomuna with the Grenade Launcher alternate fire mode of Quicksilver Storm." You need to defeat 50 enemies with the grenades. To activate the alternate fire form on Quicksilver Storm you need to hit enemies with its normal firing form until you see Grenades Prepped on the side of your screen. You can get up to x3. When you are ready, just hold down your reload button or key and fire away.
Once you kill 50 enemies with alternate fire grenades, you will receive your new exotic catalyst for Quicksilver Storm. But you aren't quite done yet.
Quicksilver Storm Exotic Catalyst
The Quicksilver Storm Exotic Catalyst grants it the Nano-entanglement Exotic Catalyst Perk. The perk changes the Auto Rifles element to Strand and final blows with the alternate fire form grenades create Tangles. However, in order to unlock this powerful upgrade completely you will have to kill 700 more combatants with the Quicksilver Storm. Once you have completed that task you just need to go into the weapon screen and slot the catalyst into the weapon.
More Destiny 2 Lightfall Guides and Builds
Thank you for reading our Destiny 2 How to Get the Quicksilver Storm Exotic Catalyst post. Keep in mind, this catalyst will work with any class (Hunter, Titan, Warlock) any subclass (Solar, Void, Stasis, Arc, Strand) and any PvE (Strikes, Nightfalls, Lost Sectors, Vanguard Operation, Dungeons, Raids) and PvP Mode in Destiny 2 (Crucible, Gambit, Trials of Osiris and Iron Banner).
If you want to see more of Destiny 2 this week's action, consider watching me live at twitch.tv/deltiasgaming and checking out the website for more guides (click), Beginner Builds and End-game PvE Builds.