Avalanche Software has posted new gameplay, showcasing their upcoming RPG game's features and mechanics including a closer look at Hogwarts Legacy: Character Creation Gameplay.
Hogwarts Legacy is an immersive, open-world action RPG set in the world introduced in the Harry Potter books. It's quite easily one of the 2023 most highly-anticipated games. The game takes place at the Hogwarts School of Witchcraft and Wizardry in the 1800s. Players can create their own Wizard or Witch and explore the magical open world, attend classes, fly on magical creatures, fight casting spells, make potions and much more.
---

We put a lot of work into this feature to give players the opportunity to create any character or even represent themselves.

---

Game Detector Alan Tewshowed
The protagonist in Harry Potter world
As in many RPG games, in Hogwarts Legacy, before players start an adventure, they need to create their protagonist. No matter how much time you like to spend in the Character Creation menu, It is an important step as your Hogwarts student will accompany you through the whole game at every step. Developers mentioned that after the start of the game, there will be certain character options players can change later, but not all of them. As a result, there is even a special barber shop in a small town next to the school. For example, players can adjust the character's clothing, accessories, hairstyle and hair color, but not permanent face features. So keep that in mind while you'll be creating your wizard or witch.
The second reason Hogwarts Legacy Character creation is so important, it's related to the lore and the Harry Potter book series. Each Hogwarts student proceeds through a sorting ceremony, a tradition that assigns them to one of four houses. It's more than just an organisation tool, the houses Gryffindor, Hufflepuff, Slytherin and Ravenclaw reflect students' personalities, strengths and even destiny. So it's crucial to allow players to inhabit this fantasy world with protagonists that reflect how they intend to play.
Character Creation Details
The latest gameplay from Avalanche Software, for the first time in months, gives fans a much closer look at how they'll create their protagonist in the game. And though the character models themselves had a great graphical fidelity to them, the character creation options were unfortunately quite limited. However, I am amazed by the models' detail and intuitive UI.
Presets
Firstly, players can choose from pre-sets characters and quickly move to the gameplay or use it as a starting point, and customise further. It's a menu that speeds up the process or can make it easier if you choose a character that most resembles your ideal student. Moreover, look at the impressive detail on facial structures, and light reflections on the hair. Characters simply look gorgeous in the picture below.
Facewear
Nextly, there is a tab called Facewear. Here, players can pick a face shape, skin color and whether they want to use accessories or not. Although there are a lot of face shape options to choose from, this part is disappointing. Picking a whole face rather than adjusting separate parts of it feels again like choosing a presets. However, the game offers a wide diversity of shapes and skin colors, making up for the lack of detailed customisation.
In the glasses section are Harry Potter's signature round glasses, there isn't Harry Potter's scar available but maybe it's still possible to create Harry Potter in Hogwarts Legacy? I think I'll pick the moon-shaped glasses for my character. For now, only three glasses options were shown during the gameplay showcase. However, As a part of "gear-picking", there will be more accessories to discover and unlock throughout the Hogwarts Legacy journey.
Speaking off, you can receive in-game a unique Beaked Skull Mask and a House Fan-atic School Robe by liking your Wizarding World account and Hogwarts Legacy account. It's all done with a couple of simple steps and will allow you to pre-release pick your Hogwarts house and wand, then transfer it to the game. More about rewards HERE.
Hairstyle
This tab in the character menu is self-explanatory. Players can pick one of the dozens of hairstyle options and a wide selection of colors. From long to short hair. From natural shades to unique ones. None of those choices is restricted by gender.
Complexion
Among the customisation options here the game allows players to pick the complexion, freckles, moles and even scars. Some of those small facial details have unusual and creative shapes, that should allow players to make the character with a truly unique and personalised look. Maybe just like Harry Potter, your student will wear a notable scar from the past or will be born with a mark that is more than just a cute attribute on their face.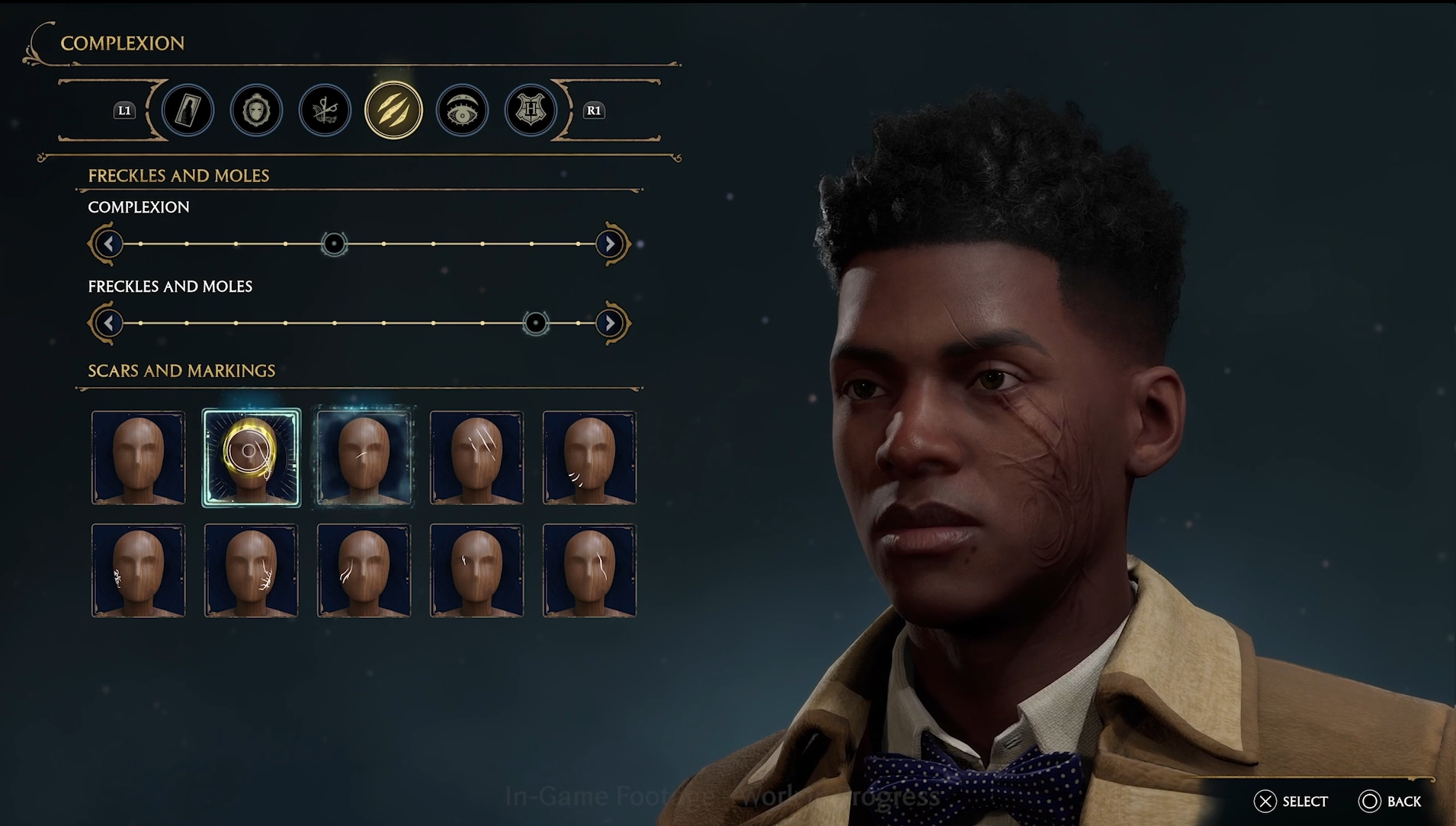 Eyebrows
The next tab allows players to adjust three more details, to finalise their student look. The eyebrow shape and color, as well as, one of many eye colourings.
Finalise your Character
Players can finalise their character creation with a voice section and pitch adjustment to make them even more unique. There are two voices available, one more feminine sounding and one more masculine sounding.
The Hogwarts Legacy doesn't limit players' choices with gender or gender-specific options, so regardless of your previous choices you can select whether your character will be staying in the witches' or wizards' dormitories.
There are four difficulties: story, easy, normal or hard, so pick what type of gameplay you want to experience, and what best suits your playstyle.
Lastly, there is the matter of your student's name and then it's time to start the epic journey in the magical world from the Harry Potter book series.
Conclusion
As far as we know, there are no ways to make the character more powerful through character creation, which is mostly designed for roleplaying. Until the last tab where players can choose one of 4 difficulties: story, easy, normal or hard. For me, it is another plus and the game's replayability potential.
I think many character creation enthusiasts will be satisfied with the options that Hogwarts Legacy offers. It's robust and features many possibilities for players to experiment with, allowing truly immerse themselves into Harry Potter's world.
Hogwarts Legacy is still a few months away from release, so we'll have to wait and see what the full, finished character creator actually looks like. Hopefully, we'll learn more about the game in the months ahead.
Don't forget that you can unlock some free accessories in Hogwarts Legacy right now, including a stylish new robe, mask and more!
Thanks for reading!
Important information
Don't forget you can determine now on your character wand and Hogwart house! Also, you can unlock some free accessories in Hogwarts Legacy right now, including a stylish new robe, mask and more!
Hogwarts Legacy release dates:
February 10, 2023 for PlayStation 5, Xbox Series X|S and PC
April 4, 2023 for PlayStation 4 and Xbox One
July 25, 2023 for Nintendo Switch
All information is based on pre-release sources. We'll update it as soon as the game launches on February 10th 2023
Come watch me play the game on twitch at tv/deltiasgaming and ask questions or visit my YouTube channel!
---
More Hogwarts Legacy Articles: