Gear in Starfield has different utilities, and many guns can be used in different scenarios, so we created the tier list of the best high-damage weapons you can find.
This tier list presents the finest high-damage weapons available in the Starfield universe. It provides you with a selection of the top 10 weapons, aiding you in making well-informed decisions regarding your loadout for all scenarios. The list covers various options, ranging from the powerful Big Bang for close-quarters combat to the common yet remarkably effective Maelstrom. Whether you're an interstellar bounty hunter, a daring explorer, or a spacefaring diplomat safeguarding your travel vessel, arming yourself with the mightiest weapons proves crucial for accomplishing your objectives.
The Best Weapon in Starfield
Magstorm is the best weapon in Starfield and number one in our Weapons Tier List due to its unmatched damage output and its availability right from the start of the game. Possessing a legendary variant of this gun grants you access to the mightiest power in the entire galaxy, literally at your fingertips. This fully automatic, rapid-firing weapon excels in swiftly purging rooms of adversaries, proving invaluable in conquering bosses and conquering even the most formidable foes.
Here is an overview of the best weapons in Starfield:
Weapon: Rifle
Ammo: 6.5mm
Damage: 12
Type: Ballistic
Mods: 7
Range: 40m
Primarily, the Maelstrom's strength doesn't come from its damage but how extraordinarily available and easy it is to get both this weapon and its ammunition. Ammo can be an issue in Starfield. You will be constantly on a hunt for it on the battlefield, looting enemies and while shopping for supplies. Ammo for Maestorm is easy to get from your enemies and many merchants.
As a result, this is the best weapon to use on easy enemies as an "ammo dump." Also, if all your other weapons are running out of ammo, swap to Maelstrom and save the expensive weapons for harder fights. In Starfield, you can mod weapons, and if you find a good Maestorm and have extra resources in your outpost, it's worth spending them to customize this weapon and make it even better.
Weapon: Pistol
Ammo: .43 Ultramag
Damage: 76
Type: Ballistic
Mods: 7
Range: 20m
Urban Eagle is the best stealth pistol designed for thieves and assassins. Perfect if you plan to create one of those archetypes of your protagonist and primarily defeat enemies from stealth. It pairs well with stealth and concealment skills, and both will boost your damage to the point that at rank 4, you'll one-shot everything and everyone with this pistol.
Another advantage is that you need the Pistol Certification skills, and it's available early in the game at the first level in the combat skill tree. You can put suppressor modification on Urban Eagle to make it even better, or sometimes you may encounter it in vendors already with this modification. It is good for tight space fights and close-quarters combat. The disadvantage is that you need high-rank concealment skills, which are hard to get, and this playstyle is not very versatile and very specific, so you must invest a lot before you become truly powerful.
Weapon: Rifle
Ammo: 9x39mm
Damage: 100
Type: Ballistic
Mods: 3
Range: 100m
It's an early game lesser version of Hard Target gun that you want to swap when you get it. However, the Old Earth Hunting Rifle is a decent weapon with high damage and is useful in many Starfield scenarios. It's easy to get early in the game, and you can customize it to increase the already good range and damage. Buy it from vendors if you need a mid to long-range weapon. It is even better if you can find it with scope modification. It will pair well with Rifle certification skills for extra damage. Upgrade it to hard target later on.
Weapon: Laser Rifle
Ammo: 3KV LZR
Damage: 55
Type: Laser
Mods: 7
Range: 50m
Equinox is a midrange laser gun if you prefer this type of weapon, whether it's by preference or fits your character. Finding it shouldn't be a problem, same with ammo. Similarly to Old Earth Hunting Rifle, it's a lesser version of the A-99. If you need a solid, great damage option early in the game, pick up Equinox.
Keep in mind that laser weapons power fades as you progress, and this type of rifle is not as effective in the end game compared to others, so Equinox's power and effectiveness fade quickly. Also, the fantastic and easy-to-get ballistic skill from combat skill doesn't apply to this weapon, and most weapons in the game do. So you take a weapon that you can't level up easily or must commit to laser weapons. Otherwise, you'll lose the bonus from combat skills.
Weapon: Shotgun
Ammo: 15×25 CLL SHELL
Damage: 274
Type: Ballistic
Mods: 8
Range: 17m
Breach is another early weapon that you want to upgrade to Big Bang later in the game. However, it is a great shotgun with good damage and a fantastic option for close-quarters combat. This weapon's only advantage over Big Bang is being forgiving in range. With Big Bang, you must be really close to getting the most out of it, whereas Breach can del still decent damage a little further, so it is a good gun for beginners before you get a better grip on combat mechanics in Starfield.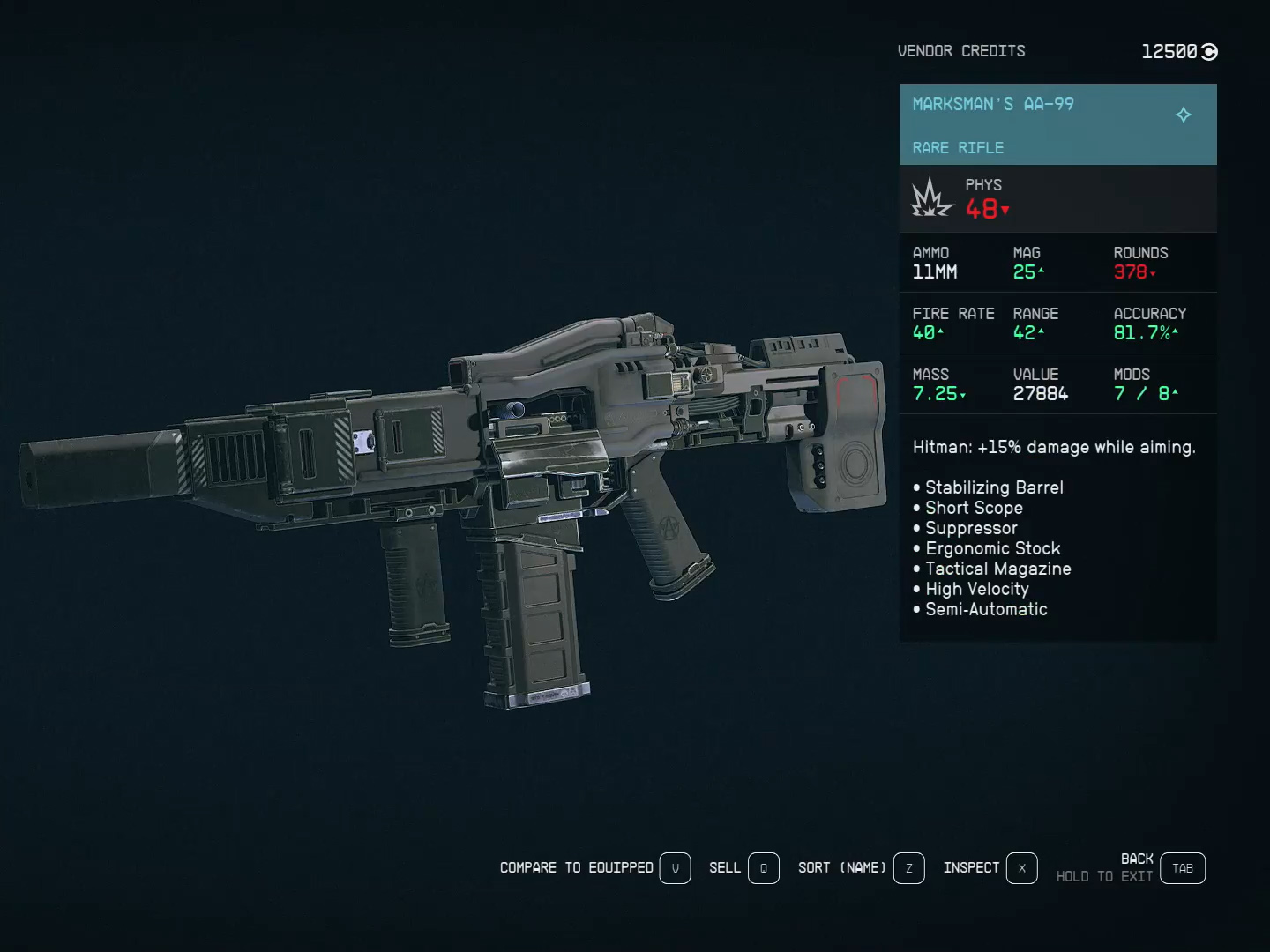 Weapon: Rifle
Ammo: 11mm
Damage: 48
Type: Ballistic
Mods: 8
Range: 48m
AA-99 is a midrange weapon that really benefits from modifications and customization. If you don't know what you'll encounter, you want to use this weapon, so it's good for every situation. As a ballistic weapon – the most common in the game – the benefits of ballistic skill will apply to AA-99, giving you an opportunity to use it easily with other weapons. Buy from vendors and keep it as a great option for all scenarios in Starfield.
Weapon: Laser rifle
Ammo: 3KV LZR
Damage: 100
Type: Laser
Mods: 7
Range: 42.5m
While staying in the midrange weapon category, we must list Orion, a better version of Equinax, fantastic at any range, and a mid to late-game laser rifle. All the rest apply the same as to the equinox. Orion is a high-damage gun capable of anything, one for all situations gun. However, you must focus on energy weapons instead of ballistics.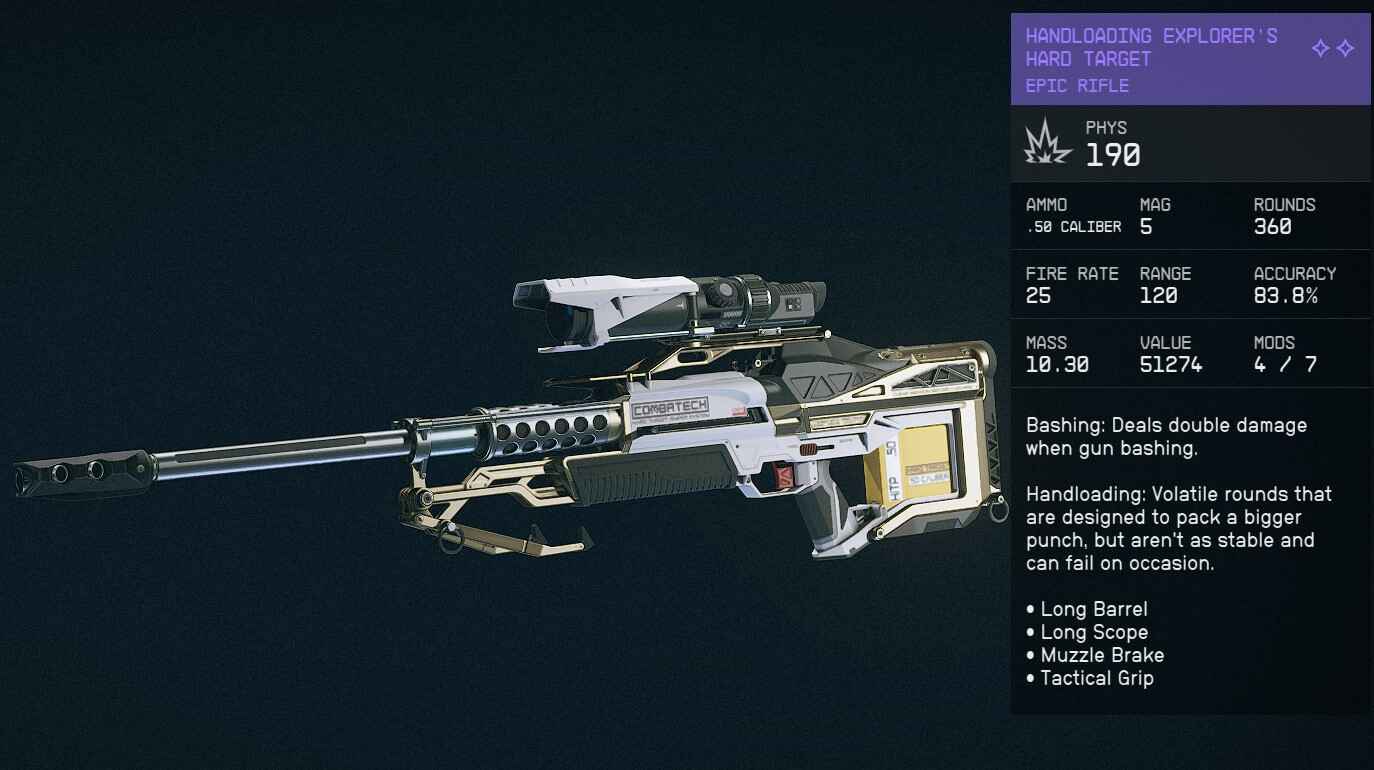 Weapon: Rifle
Ammo: .50 Caliber
Damage: 150
Type: Ballistic
Mods: 7
Range: 100m
Approaching the best three weapons category and S-tier guns in Starfield, number three is the Hard Target rifle, which is fantastic in long range and has great damage. You can one-hot enemies if you take a rifle's certification skill from combat and modify it with a scope. Customized, this sniper is the most powerful rifle in the game. It has seven mod slots that will allow you to further increase its damage, magazine size, accuracy, and range. Surprisingly, ammo for Hard Target is easy to get and expensive but worth it.
Weapon: Particle Beam Shotgun
Ammo: Heavy Fuse
Damage: 46
Type: Energy
Mods: 7
Range: 26m
Big Bang is the best close-quarters particle beam shotgun in the game. It's nonautomatic and energetic, which is a minor downside, but its damage output is inside, making it number 2 on the list as an S-tier weapon worth getting. The range can be an issue because you must be close and personal to maximize the most out of it. It may take a while sometimes to get it, but if you are lucky, you can find it from traders with already installed modifications.
It's perfect for tide spaces, ship fights, and if you prefer melee soldier style, be in the middle of the battlefield. Ammo is hard to get and expensive, you can hold it for situations when you really need it. Enter the room, one-shot everyone, and clear it quickly.
Weapon: Rare Heavy
Ammo: .50 MI
Damage: 12
Type: Energy
Mods: 2
Range: 31m
In our Starfield Weapons Tier List, the Magstorm earned first place because of its insane damage and availability from the beginning of the game. If you manage to find a legendary version of this gun, you have the biggest power in the galaxy in your hands. It's an automatic and fast-firing weapon that will quickly clear the room and help you defeat the bosses or challenging enemies.
The only downside is expensive and hard-to-get ammo that will drain quickly when using Magstorm, so you want to save it for the hardest enemies and fights. It has only 160 rounds per magazine. It takes a minute to get going, so you will be vulnerable for that period of time. Modify it to make it even better. It's fun to use it, and it's the highest damage weapon in Starfield, suitable for all scenarios and situations.
---
Looking For More About Starfield?
Thank you for reading Starfield: Best Weapons – High Damage & All Scenarios Guide. We provide the latest news and create guides for Starfield. Also, watch me play games on Twitch or visit my YouTube channel!