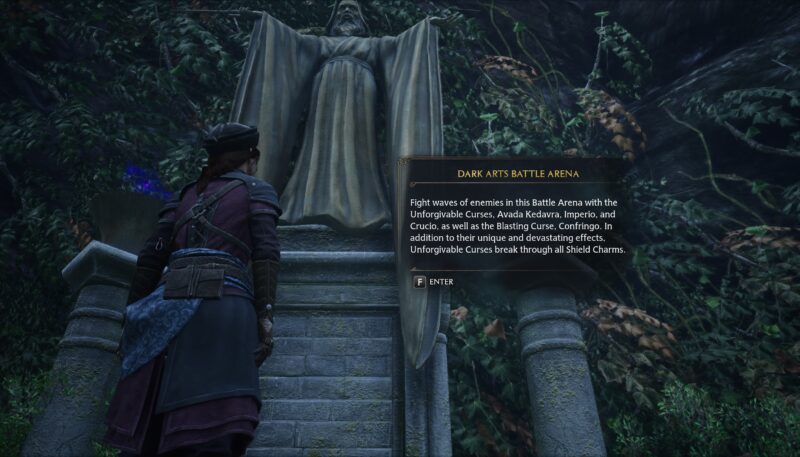 The guide covers all Dark Arts Battle Arena information included in Hogwarts Legacy Deluxe Edition. You can learn how to unlock this extra combat-focused content and where it is.
Hogwarts Legacy: Dark Arts Battle Arena
The Dark Arts Battle Arena is a unique combat-focused repeatable activity that you can start any time to practice your spells and Unforgivable Courses! Regardless if you completed the legacy questline, there are 4 Dark Wizard spells to test (automatically unlocked in the location):
You'll be taking on five waves of enemies. The combat is challenging, especially on the hard difficulty.
Related: Hogwarts Legacy: How to Unlock Unforgivable Curses Guide
Where is Dark Arts Battle Arena Entrance?
The Dark Arts Battle Arena entrance is in the Forbidden Forest southwest of Hogwarts Castle. The map above shows the exact location.
When you get there, you'll need to face two poachers who also want to join the Arena. After you defeat them, you'll notice a shrine with a hooded statue at the end of the path but no entrance. Cast Revelio spell to highlight the ten pots in the surrounding area. You'll need to break them to unlock the access. As you can see in the picture below, there is a counter in the top right corner – of how many pots you already broke. You can use any combat spell or just a basic attack. Some pots are up on the cliff, but you shouldn't have problems finding them all. In the picture, you can see nine already.
How to unlock Dark Arts Battle Arena?
Dark Arts Battle Arena is included in the Dark Arts Pack and is part of Hogwarts Legacy Deluxe Edition and Hogwarts Legacy Collectors Edition. There is no way to unlock it now other than buy any of the mentioned game editions or upgrades.
Also, Hogwarts Legacy Dark Arts Pack includes a few cosmetics and a Thestral mount. Here is a complete list of what you can get:
---
More Hogwarts Legacy information
Thank you for reading How to Unlock and Enter Hogwarts Legacy: Dark Arts Battle Arena Guide! Interested in Hogwarts Legacy, use our link here and support the site (affiliate link commission earned). Come watch me play the game on twitch at tv/deltiasgaming and ask questions or visit my YouTube channel!
Top Hogwarts Legacy Articles: