You can get and unlock the Azandar Al-Cybiades, one of the ESO companions, only if you own the Necrom Chapter. Let's take a look!
Azandar Al-Cybiades is an older Redguard Arcanist who becomes a little of a cross between a father figure and an eccentric professor mentor figure to the player character. Players will quickly discover that he has a hyper-focus on his endless pursuit of knowledge.
How to Find and Unlock Azandar Al-Cybiades in ESO?
You can find Azandar in the Apocrypha zone, the entrance is tricky to find, but you can check our guide for more info. Once there, head to the Cipher's Midden village in the middle of the zone, he'll be waiting for you next to the bridge.
Follow the "The Fateweaver Key" quest(around 20-30 min) that he gives you. Upon completion, he'll be added to your collections for the character that completed the quest. You'll need to redo the quest to summon and unlock him on other characters.
After you complete the quest, you can find Azandar and all unlocked companions in your collections menu. Press the default key "U" on your keyboard or go to the collections tab, pick Allies from the list and then Companions.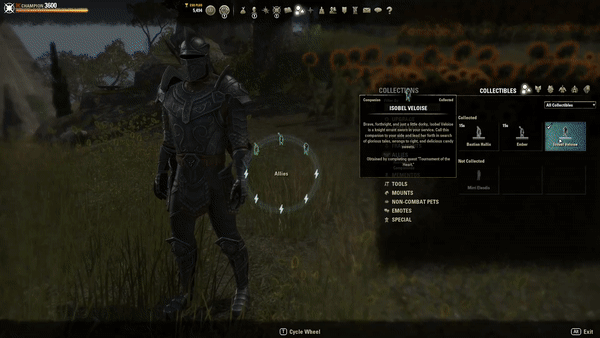 Best Azandar Al-Cybiades Builds
---
More ESO Articles, Guides and Builds
Thank you for reading the ESO Azandar Al-Cybiades: How to Unlock the Companion guide! Check out more companion builds and a comprehensive companion guide and video. Also, consider watching me on Twitch, feel free to ask me questions about my builds and games I play or check out my YouTube Channel.