You can get and unlock the Sharp-As-Night, one of the ESO companions, only if you own the Necrom Chapter. Let's take a look!
Sharp-As-Night is a reserved Argonian Warden who makes his way in the world as something of a mercenary. Originally from the Black Marsh, his past is lost to him for mysterious reasons, and he cannot return. He instead faces forward, seeking to discover who he is, though he has not come to any satisfactory conclusion so far.
How to Find and Unlock Sharp-As-Night in ESO?
You can find Sharp-As-Night in the Telvanni Peninsula zone. Teleport to the main city and Sharp-As-Night will be waiting for you outside of the city walls, next to the main gate bridge and Outlaw Refugee entrance. You'll need to go right from the main gate and follow the side patch down the hill to meet him. The picture below shows the main gate door and where Sharp Stands.
He will need your help and offer The Double Edge Quest (20-30min). Upon completion, he'll be added to your collections for the character that completed the quest. You'll need to redo the quest to summon and unlock him on other characters.
After you complete the quest, you can find Sharp-As-Night and all unlocked companions in your collections menu. Press the default key "U" on your keyboard or go to the collections tab, pick Allies from the list and then Companions.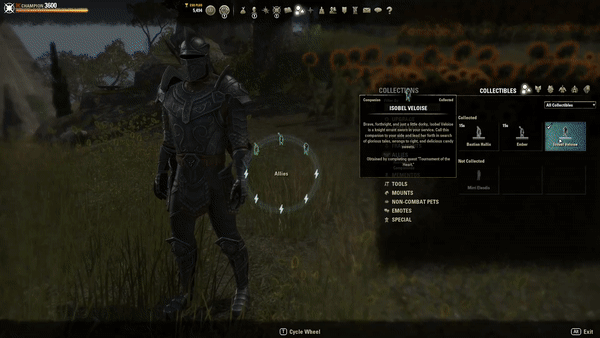 Best Azandar Al-Cybiades Builds
---
More ESO Articles, Guides and Builds
Thank you for reading the ESO Azandar Al-Cybiades: How to Unlock the Companion guide! Check out more companion builds and a comprehensive companion guide and video. Also, consider watching me on Twitch, feel free to ask me questions about my builds and games I play or check out my YouTube Channel.