In Redfall, players take on the role of heroes, premade characters with customisation options, backgrounds and unique abilities, this guide introduces Devinder Crousley, his strengths and the best builds.
The dark and mysterious island of Redfall isn't probably for "good Vampires" fans. The bloodthirsty monsters are evil and merciless enemies. Once calm and safe Redfall island in Massachusetts now suffers the consequences of a failed scientific experiment that created a legion of vampires who have taken over the town – blocking out the sun and cutting off the remaining citizens from the outside world.
Players take on the role of heroes, four playable characters, each with a unique backstory, abilities and many other customisation options. In an open world like Redfall, your hero characters must collect gear and complete quests to survive cultists and blood-suckers waiting for them everywhere.
This guide presents Devinder Crousley's background and motivations. Also, it will help you understand his strengths and abilities to play optimally with this unique hero character.

Related: Ranking: What Are The Best Redfall Heroes – Strengths & Backgrounds Guide
Redfall Devinder Crousley Guide
The Redfall offers various abilities and customisation for heroes, making Devinder Crousley's strengths unique and specialised. With distinct backgrounds and motivations, all heroes have the same purpose. Unite in the battle against bloodthirsty vampires in the game's open world.
Customisation in Redfall includes abilities, attributes, gear, upgrades and weapons.
Weapons, upgrades and gear will directly improve and make your characters stronger.
The Redfall abilities can be upgraded using skill points, which players can earn by completing main story missions and side missions found throughout the game's world.
Additionally, players can boost their heroes with attributes to customise them further and make them more powerful. Firstly we have the health recovery that determines the time your health will regenerate after your character takes damage. Secondly is storage size, you can increase this attribute to carry more resources such as ammunition, lockpicks and rewire kits.
Who is Devinder Crousley in Redfall? – Background and Strengths
During his travels, Devinder Crousley became an author, filmmaker and brilliant inventor who was always interested in the supernatural and weird. He is called The Verified Cryptid Hunter. Devinder is "kind of" recognised on the internet, but what fame will he earn after defeating a horde of bloodthirsty vampires? Assuming he survives…
He uses his devices to survive and truly test his knowledge about supernatural beings, mocked cryptozoologist has a chance to prove himself and very little choice.
Devinder's Abilities
Each hero is distinct in Redfall. Devinder's Translocator ability will feel familiar to fans of Dishonored's Blink skill. Dev fights using his inventions and weapons, providing a unique vampire hunter playstyle. He throws the device and teleports to the exact spot. His ultimate ability stuns groups of enemies so that he can be a great option for crowd control and support. In Redfall, customisation options include abilities, attributes, gear, upgrades and weapons.
Being able to use your powers and tools in interesting combinations and then layering those with other players with different powers and tools makes for even more fun and unexpected ways to approach the world of Redfall.

Art Director Karen Segars
You can build your hero characters into specific playstyles and create many diverse team lineups if you're playing co-op. And because in Redfall, you can use any character regardless of your teammates' choices, as a group, you can all play as Devinder, focus on specific abilities and weapon setups, and make very specialised team build. Each teammate's Devs can be built in a distinct way with different upgrades, weapons and gear.
Crypid Hunter Abilities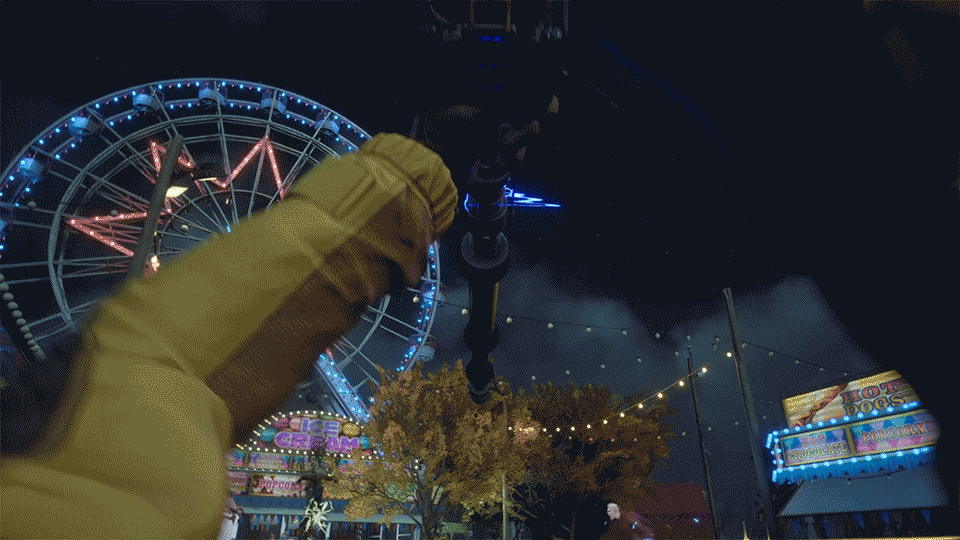 The Redfall abilities can be upgraded using skill points, which players can earn by completing main story missions and side missions found throughout the game's world. Devinder's devices and abilities are designed to play at any range, on the other hand, he is able to escape quickly or even avoid fights.
Devinder can control the battlefield and take down groups of enemies while they are stunned or petrified. At the same time, his Arc Javelin Ability generates chain lighting that deals damage to multiple enemies with each tick.
Arc Javelin Ability – Dev uses a homemade javelin that sticks to surfaces and shocks with chain lighting multiple enemies after a short delay (1 sec).
Translocate Ability – Devs throws his Arc device and teleports himself to the exact spot—a great mobility tool to quickly escape or close the gap from enemies.
Blacklight Ability – Petrifies enemies for a short time in a wide area around him and yet another special device
With his versatile tools, ready for every threat, he is a great option for crowd control and a good choice for solo playthroughs.
Best Weapons and Equipment for Devinder Crousley
In Redfall, Devinder Crousley, just like all characters, can use all weapons. However, the equipment they provide in battle is sometimes unique. The Redfall Gear includes Weapons, Armor, Medkits and Remnants. So far, we've seen sniper rifles, pistols, machine guns, shotguns, and much more weapons that can be customisable.

Related: All Redfall Weapons and Gear
Devinder can carry up to three weapons, so you will want to equip him with the best possible tier guns, which are black, green, blue, purple and golden – being the best. Also, guns drop on specific "levels" that presumably reflect players' levels or the quest and areas it was acquired.
We recommend using the following weapons when playing as Remi:
Assault Rifle

The best and most universal choice. You will easily find and use a good purple or gold quality weapon in most "outside" scenarios.

Shotgun

Swap to shotgun whenever you enter a tight space, house or corridor. A big part of combat in Redfall happens in close-range scenarios, so each character needs it. It's also crucial when enemies approach you too close.

Stake Launcher

The best weapon to deal with vampires. When Dev fights those bloodthirsty monsters, swap to Stake Launcher
This weapon loadout easily deals with all enemies and every range. Don't forget to equip Dev with Stakes. You never know when you may need them against vampires. You can read more about the best weapons against vampires in our Guide.
Best Abilities and Skill Upgrades for Devinder Crousley?
The best builds are the balance between survivability and damage. This build is designed to play the Redfall's story solo on any difficulty. You will have only a limited amount of skill points, so each upgrade is an important choice.
Arc Javelin is your area damage, control mechanism and heavy damage when you start out. Your damage and enemy control will increase as you put skill points into it. Moreover, this is great for controlling choke points inside or outside of buildings.
Translocation is your mobility tool and seems very weak at first. However, you have a Reverse Entropy skill which can give you and your allies a small heal over time. This should be taken earlier and used as a survival skill. Later on, the skill becomes a useful decoy for enemies and will aid in your damage.
Backlight is your last ability and acts as a massive AoE stun, stagger and vampire destroyer. We upgrade this last because it's not mobile at all. Thus, you really need to place it when being overwhelmed or doing boss fights.
Recommended Skill Upgrades
This setup is more beneficial for solo play. Take the last passive skill on the menu if you plan on playing cooperatively. This will help you and your group and is meant more for multiplier-focused players.
This skill loadout focuses entirely on AoE damage and survivability at the beginning of the game. During mid-level, you start to focus on his ultimate ability. Recommended skill upgrades for Dev based on his level will give you three complete skills maxed out and important survival skills.
Level High Voltage
Level save
Level save
Level Reverse Entropy
Level Power Surge 2
Level Shock Lance
Level Shakedown
Level save
Level Just Physics 2
Level Save
Level Energize 2
Level Save
Level Save
Level Lighting Storm 3
Level Ambient Recharge
Level Ion Exchange
Level Save
Level Wave Destabilization 2
Level Quick Recovery I
Level Quick Recovery II
Level Save
Level Discordant 2
Level Save
Level Efficient Battery
Level Save
Level Save
Level Quantum Kerfuffle 3 points
Level Go Get'em Dev
Level Light Therapy
Level Photon Sharpening
Level Lumen Intensity
Level Save
Level Particle Adherence 2 point
Level Save
Level UV Saturation
Level save
Level Energy Redistribution 2
Level Save
Level Save
Ultraviolent Light 3
---
More Redfall Guides and Articles
Thank you for reading Redfall: Devinder Crousley Guide and Best Builds! Check our other builds and guides. Also, consider watching me on Twitch, where you can ask me questions or check out the YouTube Channel.