Best One Bar Build for ESO: PvE Tier List
The Best One Bar Build for ESO: PvE Tier List compiles the best and worst One Bar heavy attack builds and classes for The Elder Scrolls Online Scribes of Fate DLC Update 37.  In 2023, the Elder Scrolls Online heavy attack build using a lighting staff and medium armor performs at a high level.  These builds are capable of beating solo Veteran Arenas with world record scores, breezing through Veteran Dungeon Trifecta achievements, and completing Veteran Trials.  In this guide, we will walk through the pros and the cons of each class and give you recommendations for each.
Video Guide
What's the Best One Bar Build in ESO?
Magicka Sorcerer remains the best One Bar heavy attack build in ESO.  With effortless damage, near infinite resource sustain, and great group utility, it is better than ever.  The ease of play with the Sorcerer also separates it from other classes, having your pets and one hard-hitting damage over time (DoT) ability do most of the work. Nearly all of the Oakensoul Heavy attack builds perform well, and with some adjustment, each has a place in ESO PvE.
S Tier Classes
A Tier Classes
B Tier Classes
C Tier Classes
How do One Bar Heavy Attack Builds Work in ESO?
Through a combination of gear, lighting staff, heavy attacks, and important buffs, Heavy Attack builds produce some serious damage.
Oakensoul Mythic item provides the Empower, increasing the damage of your Heavy Attacks against monsters by 80%.
Lightning Staff is the weapon choice because the Tri Focus destruction staff passive allows Heavy Attacks to damage nearby enemies for 100% of the damage done.
The Lighting Staff skill Unstable Wall of Elements sets enemies off-balance for 7 seconds with a 15-second cooldown.
Warfare champion point slottable Exploiter gives 10% more damage during the off-balance phase.
Weapons Expert from the Warfare champion point tree gives 20% increased damage with light and heavy attacks.
Storm Master item set – when you deal Critical Damage with a fully charged Heavy Attack, your Light and Heavy Attacks deal additional damage for 20 seconds.
Sergeant's Mail item set – when you deal damage with a Heavy Attack, you gain a stack of Sergeant's Focus for 5 seconds, increasing the damage of your Heavy Attacks per stack.
The goal with these builds is to continually hit fully charged heavy attacks to increase your damage via gear sets.  Additionally, you want to proc off balance as often as possible, with 7 seconds of uptime (active) and 15 seconds of downtime.  The builds will focus on prioritizing one or two damage over time effects, Wall of Elements for off-balance proc, and constant fully charged heavy attacks. With the gear loadout we have provided, which works on every class, you can easily reach 25-27,000 health, 30,000 magicka, and near infinite resource sustain.  Moreover, on a 21 million health parse dummy, these fully-charged heavy attacks can see numbers over 120,000 in damage!  Each class and build is hyperlinked if you wish to play and we will keep them current for each update in ESO.
---
| | |
| --- | --- |
| Pros | Cons |
| Good AoE damage | Complex |
| Good burst healing | DK wants to be a melee build |
| Great damage over time | Little group utility |
The Dragonknight I rank as C Tier due to its over complicated rotation, emphasis on DoTs and lack of group utility.  This class excels at high-pressure DoTs and melee aggression. And that's the issue, Oakensoul Heavy Attack builds want to emphasize fully charge heavy attacking at range.  The advantage of the Lighting Staff is the constant damage at range versus always playing up close and personal and being susceptible to mechanics.
Dragonknights do have exceptionally powerful damage over time effects along with massive burst healing and healing over time with skills like Burning Embers and Draw Essence.  But when it comes to group utility, the Dragonknight is lack luster due to the lack of bar space.  Moreover, the DK's most powerful heal is a "selfish" healing Coagulating Blood, which only heals yourself not others.  With limited bar space, your best bet is to play this in a semi-close melee range focused on pure raw damage which it does very well.
My suggestion is to play this build if you love the class and want to make it simpler than an ultra-complex two-bar loadout.  You can still do some good damage, and maintain some class identity but won't perform as well as other builds.
---
| | |
| --- | --- |
| Pros | Cons |
| Great mobility | Needs more bar space |
| Single Target Damage | Sacrifices damage for survivability |
| Easy of play | |
The Nightblade class with a one-bar build can provide incredible single-target damage. What the Nightblade does well is using Merciless Resolve Spectral Bow proc.  Holding down a heavy attack provides multiple procs, and accessing this skill quickly is the key to single-target damage success.  Wait for a five-stack proc, and fire off a Spectral Bow for huge damage.
Another strength of the Nightblade with Oakensoul is the ease of play.  There's a combination that adds 10% more damage passively, using Concealed Weapon and Twisting Path.  Twisting Path procs major expedition repeatedly and Concealed Weapon gives you 10% more damage when Major Expedition ends.  This combination, while taking up a lot of bar space, provides incredible damage and is simplistic for the build.  Twisting Path also gives a great group mobility advantage of allowing everyone on your team to gain Major Expedition while providing you with Minor Expedition.
What the class suffers from is a lack of bar space. The Nightblade simply needs a lot of skills on a specific rotation to make the most of its damage. Having essentially a dead skill in Concealed Weapon gives you 10% more damage but also hinders you with one bar because of the lack of space.
Another disadvantage compared to other builds that are ranked higher is your healing abilities do not do damage for you.  The Magicka Sorcerer pets constantly do damage and can be activated for a burst heal. The Warden's Arctic Blast can be a big burst heal and proc damage and status effects. The Healthy Offering skill, while providing some serious healing, takes up another precious bar space that could be used for adding more damage.
The magblade one-bar build excels in group content where your healers can take care of your survivability and you do insane damage at range.  However, the class and playstyle lacks overall in solo content compared to others and thus, ranking it here.
---
#4 Warden  | A Tier
| | |
| --- | --- |
| Pros | Cons |
| Great AoE damage | Medium range |
| High survivability | Pet Ultimate |
| Amazing passive skills | Heal is selfish |
The Warden class is up next and we've moved it down to A tier currently.  Where the Warden excels is solo play.  You have mind-numbing survivability with Arctic Blast, a crowd control ability with healing and procing of status effects.  The downside of this ability is it cannot be used at ranged to stun nor does it heal allies.  When you're playing solo, this doesn't matter and most of the enemies come right toward you anyways.
Warden's ultimate choice is both a strength and a hindrance. The base ultimate skill Feral Guardian (either morph) is extremely effective when playing solo or single target. The bear pet does amazing damage, can stun enemies and act as a decoy. The only issue with it is, it's not area damage. So you end up in a dilemma: Do I spec towards full single target damage, or do I sacrifice that in exchange for the Destruction Staff ultimate giving me more area damage?
And lastly, we have the range of the class. Your primary damage ability is Deep Fissure, firing off two damage attacks which lower armor via two debuffs. This will increase your overall group DPS significantly and makes the build much more active and fun. The downside is you need to not only aim the ability so it hits your target, but also be close enough in range. Again, when you are playing solo this isn't an issue because you have battlefield control of where the encounters take place. In group content, however, you can miss a Deep Fissure or be too far back avoiding damage mechanics and therefore lower your overall DPS.
For solo-focused players that like high single target damage, an active playstyle with the ability to do big damage, we recommend the Warden.  In group play you can swap some skills in and out and do just great with this build as well.  But other classes either have more flexibility in skills, more utility with one bar or incredibly simplicity.
---
| | |
| --- | --- |
| Pros | Cons |
| Possibly the best AoE | Weaker single target |
| Great group utility | Needs more bar space |
| High survivability | |
Now we've reached the class we prefer slightly higher than the Warden and that's the Necromancer.  The key difference here is that the Necromancer's heal can be used solo or in a group. Unlike the Warden's selfish heal, Arctic Blast, the Render Flesh base morph can be used to heal other party members. Thus, giving the Necromancer a big advantage in a group content and saving precious bar space.
Necromancers also have a ton of valuable buffs, including their ultimate of choice Pestilent Colossus which gives Major Vulnerability increasing everyone's damage by 10%. This becomes even more valuable than the Warden's Bear or the standard Mage's Guild Shooting Start ultimate in group content.  Also the Necromancer has a melee focused main spammable that can be used to set off-balance without the need for Unstable Blockade using Ruinous Scythe.  This skill, unlike other abilities, heals you based on the damage done and with a high health pool from Oakensoul and Bewitched Sugar Skulls food choice, it provides significant healing, especially playing solo.
Now why isn't the Necromancer number one then?  The main issues are weaker single target due to the lack of bar space.  The Necromancers, similar to the Dragonknights, are absolutely apex predatory DPS characters with two bars due to the high damage over time DoTs that last a long duration.  But put them with an Oakensoul build, and you won't see their full potential.  Moreover, your Blastbones ability requires more active casting and global cooldowns reducing the simplistic nature of the one-bar heavy attack playstye.
We recommend Necromancer if someone wants to play an Oakensoul build solo or in a group using a bit more frequent abilities due to Blastbones. The Necro also has great group utility so if there's multiple in your group, it's never a problem due to the Major Vulnerability debuff via your ultimate.
---
| | |
| --- | --- |
| Pros | Cons |
| Great all-around damage | Less damage than Sorc |
| Best execute in the game | Heal requires bar space |
| Good utility | |
The Templar has moved up significantly on our list in Update 37. Templar is nearly the Sorcerer's equal when it comes to solo play, as during our test, both the Magsorc and the Magplar completed Veteran Vateshran Arena within a 24-minute time. The Magplar, unlike all other Oakensoul builds, uses an execute ability because the damage is so significant and it can heal you based on the damage done with the Radiant Glory morph.
Templar's shine with group utility as well, providing so many synergies to groups. Whether it be Blazing Spear, doing a ton of damage and giving back resources via the Synergy. Or Ritual of Retribution, another strong AoE damage skill with synergy cleansing negative effects, the Templar is very useful in a group. Moreover, your heal Breath of Life requires no aim, providing big healing in a massive range.  The only downside is that the Sorcerer's heal via their pet is simply stronger.
When it comes to solo play, the Templar's skill Living Dark provides so much healing when taking damage, that you do not need another skill for healing. Combine Living Dark with Radiant Glory execute and you have insane survivability without the need for a selfish heal. And on a 21 million health parse dummy, the Templar shines getting over 90,000 DPS in combination with a simple bar load-out and execute.
If it weren't for the Sorcerer, we'd recommend the Templar overall as the best Oakensoul build.  It has a great execute, group utility, and damage for both AOE and single target.  We highly recommend this class for someone who just loves the Templar style and wants something different then a ranged execute.  The Templar feels very strong solo or in a group with Oakensoul in the current meta.
---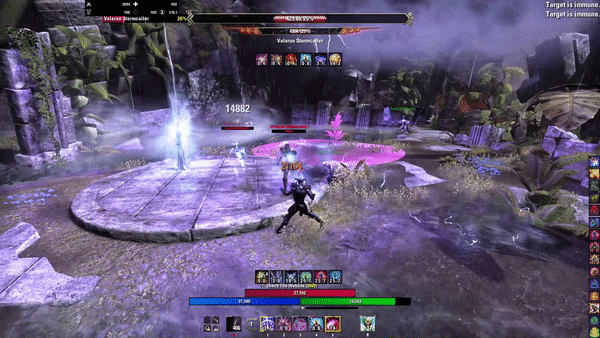 | | |
| --- | --- |
| Pros | Cons |
| Ultra-simple | Weak AoE |
| The best single-target damage | Pet focused |
| Unreal survivability | |
It's no surprise that the Magicka Sorcerer remains the best Oakensoul build in The Elder Scrolls Online.  It has the highest parse on record for Oakensoul, at over 100,000 DPS on a 21 million parse dummy.  Oakensoul Sorc also has the best Veteran Maelstrom Arena (solo arena) time currently in the world.  Whether it's mind-numbing damage or simplicity, it's truly the best.
Not only does the Sorcerer heavy attack build shine in solo content, but in group as well. Throw onthe  Mystic Orb skill from the Undaunted skill line and now you have massive AoE damage with a resource-sustaining synergy similar to the Templar's Blazing Spear.  Change the morph on your Pet to Twilight Matriarch and you have even higher burst healing than the Templar. The highest burst healing from our testing, also without aiming required. Unlike other classes, this pet does constant damage even when not healing, saving you precious bar space and no other class can say that.
The play style blends the best of both worlds, being somewhat more active than other builds using a 6-second buff/DoT Daedric Prey. This skill gives a whooping 45% more damage to the target that's cursed. Simply apply this, fully charge heavy attack to get your pets focused on the target and watch the health bar melt. The build isn't as punishing if you miss a global cool down or forget to keep Prey up constantly, because your pets deal damage passively for you.
When it comes to parsing, or doing damage on a training dummy, the Sorcerer dominates.  With a very easy rotation, this is one of the best builds to bring into Veteran Trials and prove that you're a valuable DPS player.  And, unlike other builds, the Sorcerer doesn't have to sacrifice health or resource sustain to pull off big numbers.
In fact, my stamina Dragonknight with ultra sweaty trials gear, playing in melee range, does only slightly higher damage in dungeons than the Sorc. Why? Because the one-bar builds have much higher time on target. When mechanics in dungeons happen, most melee have to peel off the target and simply not do any damage. Meanwhile, the Sorc can rip off heavy attacks, Prey, and their ultimate with zero down time on DPS.
Now, the Stamina Dragonknight setup will do better in trials, because the content is geared towards tight stacks in melee range.  But in dungeons, it's hands down the simplest and most effective for the everyday player in the Elder Scrolls Online.
The only downsides I see with this build are somewhat lackluster AoE in comparison to the Necromancer.  Also, you are forced into using pets for the most damage possible and the play style can be a bit more active to get the most out of it.  This build remains the most popular build on my website by a mile, because it's helped so many people get through content they wouldn't have dreamed of before.  And in the current meta, it's just as good and we hope the trend continues for the rest of 2023.  We will keep this post updated as patches, expansions continue to roll out so make sure to book and thanks for reading!
---
Additional Guides
Thank you for reading Best One Bar Build for ESO: PvE Tier List article!
Check our ESO builds and guides. Also, consider watching me on Twitch, where you can ask me questions about my current builds, or check out the YouTube Channel.