Best ESO Classes: PvP Tier List
The best and worst classes in the Elder Scrolls Online shift radically from patch to patch. Balance and meta are in constant flux, so take this as a general rule of thumb. ESO also features a variety of PvP content, which will be reflected in this list: Battlegrounds (4v4), Cyrodiil (Open World), Imperial City, and dueling. This list puts all of that context together and gives opinions and pros and cons on the best and worst PvP classes in ESO based on experience playing each class.
What Changes for ESO PvP and Classes in Update 37, the Scribes of Fate?
ESO Scribes of Fate launched on March 13th on PC mega servers. This update featured some changes with the classes and introduced new gear sets.  The overall meta shift is due to the change of the Elusive Mist vampire skill which now vies a mobility skill to any class similar to the Sorcerer Streak. This moves the Sorc down the list, changing their overall uniqueness while giving sturdy slow classes, a major advantage never seen before.
Moreover, this patch will see a rework of a Two-Handed main spammable Wrecking Blow, giving the skill Major Berserk. This frees up even more flexibility in main spammable choices. The gear choices remain relatively the same, with no major mythics introduced, three new rewards of the worth, six sets from dungeons, and two monster helms. The Best ESO Classes: PvP Tier List has been updated to reflect Scribes of Fate and Update 37 changes.
What Makes The Best ESO Classes in PvP?
The hybrid Stamina Dragonknight remains the strongest class in ESO PvP.  With the best-in-class ultimate, resource sustain, dot pressure, and ease of play, the Stamdk is too good not to rank number one. However, we firmly believe that you should always play the class and playstyle you are most excited about and passionate about. One day your class will be on top, the next, it won't be. But if you're having fun, that is what matters most.
---
S Tier Classes
A Tier Classes
B Tier Classes
C Tier Classes
---
| | |
| --- | --- |
| Pros | Cons |
| Good AoE Damage | Nerfed Synergy |
| Group Utility | Bombing Playstyle Weak |
| Survivability | Stamcro is Better |
| | Nothing Special |
Unfortunately, the Magicka Necromancer PvP builds are the dead in the current patch. As a result, it is the last on our Best ESO Classes: PvP Tier List. ZOS continually tries to prohibit "bombing" or destroying large groups with proc sets. And in Update 37, the Boneyard skill will see a reduction in the synergy damage. This significantly weakens an already weak PvP playstyle.  The Magcro suffers from weak weapon choices and slow mobility. The stamina version of the class does everything better.
Magcro lacks a class execute, swap to Dual Wield and get one instantly.
It doesn't have an on-demand stun, swap to a handed skill line, and you get an Off Balance stun combo.
It lacks speed, either Vampire Mist Form or Medium Armor will give you that.
This class is no longer a good bombing playstyle, One-bar builds can still do this or even stamina.
A decent main spammable option? Nope, Stamina Sythce is objectively better.
You begin to wonder what the Magcro brings to the table other than a former powerhouse in ESO? The answer is nothing of value outside of healing and Colossus Ultimate.  Until the Magcro has something special and unique they will not be feared outside of a couple of bombs on flags in Cyrodiil but not the entire context of PvP.
---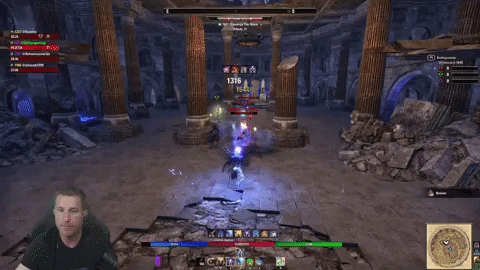 | | |
| --- | --- |
| Pros | Cons |
| High Mobility | Constant Bar Swapping |
| Good Single Target | Archaic Shield Stacking |
| Class Execute | Limited AoE Damage |
| | Shutdown with Reflect Abilities |
The Magicka Sorcerer has remained a staple in ESO for quite some time but things are about to change.  Specifically, the Elusive Mist skill, giving every class in Update 37, a Streak type of ability.  High movement speed and escapability were the Magsorc's calling card.  Soon, everyone will be able to have that similar skill and ability limiting the class.
Moreover, the Magsorc primary defensive capabilities are shields. These are getting buffed in Update 37, only if you stack health.  These defensive shields do not stack (increase in effectiveness) with spell or weapon damage.  Thus the class is pigeonholed into an archaic playstyle of shield stacking.  The class also remains heavily magicka dependent and doesn't do well with stamina skills outside of Resolving Vigor. Unlike other magicka classes, like Nighblade and Dragonknight, who can hybridize effectively, the Magsorc suffers for nearly entire magicka-based skills.
The Magsorc also cannot take advantage of the latest and greatest proc sets that provide incredibly high burst damage. You commonly see this build and playstyle adopt a back bar Frost Staff with Elemental Suscptabliity because the Magsorc has very little DoT pressure.
What the class can do well is single target pressure and ranged execute ability.  But in today's game, you can argue that the Templar is much more effective at this.  With an ancient playstyle, mediocre gear sets and weak hybrid choices, you are left with the Magsorc. The class now only feels dominant as a Mage's Fury execute spammer in Battlegrounds or a Negate bot in Ball groups.
---
| | |
| --- | --- |
| Pros | Cons |
| High Burst | Predicable Damage |
| Great AoE | Constant Buffing |
| Good Ultimates | Warden is Better |
The Stamina Necromancer has fallen behind the nuclear arms race in damage due to various nerfs and buffs to other classes. Currently, the class does very well with high burst Blastbone combination.  But so does the Warden, the only difference is the Warden can cast their burst combo (Deep Fissure) without a target and it provides two debuffs to the target reducing armor.  The Stamcro has good survivability, but when you pair it against a Nightblade that can burst heal for 20,000 via Health Offering AND has the mobility it doesn't come close.
The most effective playstyle remains the burst combo using a combination off-balance Dizzying Swing, and Dawnbreaker as your Blastbones lands.  You can nuke beginner players easily with this as they won't see it coming.  Veteran players will see this predictable telegraph a mile away and stun, dodge or avoid the damage entirely.
The upside of the class is you are very survivable with very little effort just by maintaining your armor buff.  In update 37, the class will see an increase in resource sustain making it much easier for beginners to spam cast abilities and survive.  One of the major downsides remains the class feels like you do nothing but buff.  You run through a circle of 5-6 buffs constantly, only to have 5-6 seconds of high-action gameplay.  If you miss your combo, you go back to the drawing board, buffing in the shadows waiting for your chance to strike.  And you're left wondering, why not just play a Warden who can do every a Stamcro can but better?
---
| | |
| --- | --- |
| Pros | Cons |
| High Burst | High Skill Cap |
| Great Survivability | Magblade is MUCH Better |
| Unique Stealth Ability | Vampire Required |
The Stamina Nightblade still makes a great dueling 1vX machine. The strengths remain the same, a unique cloak, high burst, and good survivability.  However, ZOS has changed the Concealed Weapon skill to give a unique 10% damage increase when Major Expedition ends.  Combine this skill with Refreshing Path, which creates this buff every second, you're looking at a permanent boost to overall damage.  Moreover, Surprise Attack no longer stuns but critical hits from the flank.  And you come to the realization that Magicka Nightblade is the proper way to play this class considering everything incentives you to play this style rather than a stamina main spammable.
ZOS also tries to remove ganking from their game (one-shotting players).  It's still possible to do so, with much more effort and must less survivability. Most of the high burst proc sets have a significant delay or do damage over time rather than instantly. And Stamblade requires the highest skill cap for the least reward and is not beginner friendly.
Stamblade can do well as a bow user with some control skills and high burst proc sets coming out of stealth at range.  It has good survivability but requires a lot of situation awareness and almost mandatory need for the Vampire skill line.  The moment you spec into Magicka Attribute and change your main spammable option, the build because an absolute juggernaut, and that is why I HIGHLY recommend switching to a Magblade.
---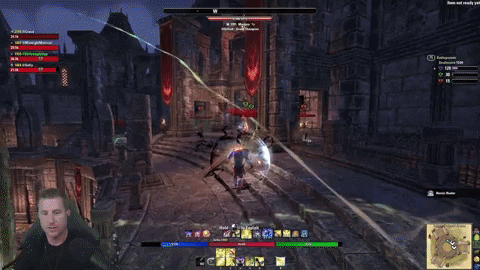 | | |
| --- | --- |
| Pros | Cons |
| Great Execute | Lacks Mobility |
| Incredibly Survivable | Force into Range |
| Good Utility | |
| Beginner Friendly | |
The Magica Templar's main spammable Puncturing Sweeps was nerfed into oblivion in 2022, but the class is making a comeback with a different playstyle. That's why it's only number "8" on our Best ESO Classes: PvP Tier List.
In order to make this class work, you'll be forced into a ranged heavy build relying on your Execute and Destruction Staff spammable ability of your choice for damage.  The issue with range is your lack of inherent movement speed requiring you to pick off targets and hope they don't go out of range or pick up a movement speed ability to keep up.
Magplar's also make exceptional beginner builds as tanks or healers. The innate toughness of the class, combine with a unique cleanse and burst healing gives you the ability to be very survivable when you are new to PvP.  This is what I constantly recommend to people who feel frustrated dying. Through on Sword and Shield, Living Dark Bubble, block and heal.  The issue is, when you go into "turtle" mode, defending yourself, you have little ability to flip the fight in your favor.  Mainly you wait until death or a zerg shows up to your defense.
Consider the Magplar a decent PvP build that, if optimized for range, can be a dominant force on any battlefield and is exceptional for beginners.
---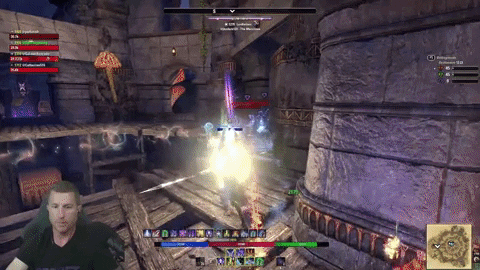 | | |
| --- | --- |
| Pros | Cons |
| High Mobility | Weak Healing |
| Great Burst | Requires Constant Movement |
| Mega Group Utility | Mist Form is Similar to Streak |
| | |
This ranking might seem very odd to players that haven't experimented with the Vampire skill rework Elusive Mist.  Mist Form now gives a similar mobility tool to Streak, removing the uniqueness and vibrance of the Stamina Sorc.  What the class does well is very high burst damage, great mobility and good group utility when playing with a coordinated group. What it doesn't do well is healing and requires constant use of Dark Deal for resource sustain.
This combination of Dark Dealing and streaking isn't a problem in the open field.  However, once your situational awareness dips, you get bashed doing a Dark Deal and you can't burst heal like the other classes, you die instantly.  In the right hands, the Stamsorc can rely on mind-numbing speed only for survivability, everyone else has to be focused 100% or they will die.
Where the Stamsorc currently shines is in open space areas where they can zip away and line of sight. Pick your spot when you want to attack, then peel back. But when you're forced into closed spaces, or someone has a gap closer mobility tool to catch you, then you're just an average class.
---
| | |
| --- | --- |
| Pros | Cons |
| High Burst | Lacks Mobility |
| God Tier 1vX | Class Spammable Weak |
| Amazing Execute | Gear Dependent |
| Great Healing | |
The Stamina Templar is now considered a dominant class in ESO PvP again.  Update 37 will see a rework of Wrecking Blow giving you major berserk for a short period.  This frees up many flexible build options that can perform well in PvP.  The reason is, Templars remain very survivable, and converting to stamina attributes and weapon choices gives you much greater flexibility in your main spammable and playstyle. Moreover, you can solve the weak class speed with Vampire Elusive Mist and resource sustain problems with a two-piece monster helm.
The Stamplar also has amazing healing via Honor the Dead and Living Dark with the strongest execute in the game.  You use magicka pool for healing and range damage while stamina for DoTs and burst.  Speaking of burst, you have one of the strongest bursting tools in the game with Power of the Light.  Soak up damage like a sponge and boom, execute and dead.
Why the Stamplar isn't higher is other classes have more damage, survivability, or better utlimates.  Crescent Sweep is great for Templar, but outside of that the class ultimate remains a hindrance to success.  I enjoy this class most in a 1vX keep fight scenario and think it shines in dueling.
---
| | |
| --- | --- |
| Pros | Cons |
| God Tier Survivability | Lacks Execute |
| Amazing Crowd Control | Requires Stamina Abilities |
| Rewards Aggressive Playstyle | Vampire for Mobility |
| Great Ultimate Choices | |
This seems like an odd rating, but you could easily call a stamina dragonknight magicka and a magicka dragonknight stamina.  Both playstyles essentially share nearly identical bars, gear, and champion points.  But rather than lumping them together, I'm going to consider you are playing a "true" magicka build which is considerably weaker than hybrid stamina.
In ESO Update 37 Scribes of Fate, the DK will see a nerf to Cinder Storm/Earthen Heart spamming ability to get back infinite resources.  Outside of this it's more of the same with DK gaining access to Major Berserk via Chains.  The main downside of the class is requiring of Vampire for Mobility and the constant need for stamina-based skills and weapon skill lines to make the most of the play style.
Pure magicka builds also don't have access to an execute nor do some of the damage over time hit nearly as hard (Venemous Claw).  Naturally, you start shifting morphs and gear choices towards a stamina-leaning playstyle and that's where the class shines and why I put it down on the list.
The pros are completely obvious with mind-numbing DoT pressure, god-tier survivability, and crowd control.  This is the best most aggressive style build in ESO and something I love to play though I strongly recommend a hybrid playstyle.
---
| | |
| --- | --- |
| Pros | Cons |
| Mind-Numbing Burst | Weak Resource Sustain |
| Great Self-Healing | Magden is Better |
| Incredible Mobility | Requires Constant Buffing |
| Flexible Build Options | |
I truly never thought I'd see the day when the Stamina Warden was ranked lower than Magicka Warden, but here we are. Yet the number 4 on the Best ESO Classes: PvP Tier List is well deserved. The Stamina is absolutely fantastic and, in the right hands, provides some of the best burst damage in the Elder Scrolls Online.  With the Stamden, you have flexibility in build choices, great healing, and high mobility.  What always holds the class back is resources sustain issues and most of the best skills require magicka not stamina including your main nuke Deep Fissure.
Another strength of the stamina warden is the class possesses innate buffs, like weapon/spell damage and critical. The class also has a massive armor pen with deep fissures and huge critical damage with a passive advanced species.  Making the Stamden the best for pure flexibility.  The two major downsides I see in the class are the constant need for buff cycling and the weak resource sustain.  Outside of that Stamden remains a great choice for most end-game PvPers in any context.
---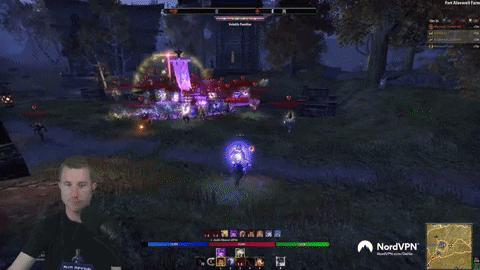 | | |
| --- | --- |
| Pros | Cons |
| The Best Burst Possible | VERY High Skillcap |
| Insane Healing | Requires Constant Buffs |
| Can Bomb or 1vX | |
| Great Group Utility | |
Magblade went from one of the worst, to arguably the best class in ESO PvP.  Let me make a case for why it's not number one first before I explain why it's so incredible.  The Magblade in the right hand is literally the best 1v1 or 1vX class in ESO unquestionably.  The downside, it has to be the right player with the right level of skill, reaction time, and situational awareness. Keeping a broad view of these classes in ESO, I rank it third because most players won't be able to pull off what they often see or hear.  But if you are one of those players….buckle up here's what the Magblade can do.
Highest burst damage with one-shot potential spectral bow proc.
Highest burst healing with Healthy Offering magicka skill.
Mobility and healing over time to you AND your group.
Incredible in class ultimate and flexibility when picking weapons.
Can bomb, 1vX, or heal, it doesn't matter.
Siphoning Attacks for infinite resource sustain
Fastest ultimate generation passively.
And that about some up why the Magblade is so strong.  If it weren't for the complex buffs, bar swapping, and situational awareness required, this class would be the unquestioned #1 in ESO PvP.
---
| | |
| --- | --- |
| Pros | Cons |
| Great Damage | Constant Buffing |
| Clear Identity with Frost Staff | Requires Stamina Skills |
| Amazing Survivability | Weak Resource Sustain |
| God Tier Utility | |
Magden has shockingly moved up to our number two spot on the list and you could make a case for the number one.  The Magden had many buffs recently but the most noticeably piercing cold passive "Increases your damage done by 2%, which increases to 12% when wielding an Ice Staff."  This opened up build options for the class to use double frost staff, providing the most battlefield control of any class with area immobilization and stuns.
The Magden also excels at healing, survivability, and group utility.  Whether playing solo or in a group, there's always room for a magden because of the frost/chilled status effect passive. The resource sustain with a skill line Leeching Vines and the AoE stun of Artic Blast. This class also can shut down an entire zerg with its constant double-ice staff immobilization and stuns.  It can also shut down range damage dealers with Crystallized Shield.
So why isn't the magden the best pvp class in ESO?  It requires either a lot of sustain or the use of stamina skills to resource sustain.  It also requires constant buffing and complexity to get the most out of the class. While the class has great burst, the variety in weapon choices just isn't there like other classes, but if you play the Frostden right you will be known on the battlefield and have a solid S Tier ranking!
---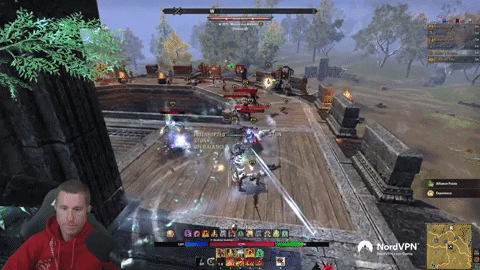 | | |
| --- | --- |
| Pros | Cons |
| Best Survivability | Magicka Dependent |
| Easy to Start | Requires Vampire for Mobility |
| Amazing Resource Sustain | |
| Flexibility in Builds | |
That led us to number one on our Best ESO Classes: PvP Tier List! The Stamina Dragonknight PvP Build (hybrid) remains the strongest class in ESO PvP.  It hits the sweet spot between resource sustain, survivability, mobility, damage, and ease of play.  Pick this up as a sweatlord or a beginner and you will feel powerful with or without meta gear.  You have flexibility in skills, gear and weapon choices, and now with Elusive Mist rework, high mobility.  The major downside is the use of many magicka skills to make it work, which you could argue is more of a magdk than stamdk.  The major pros of the Stamina Dragonknight:
12 Seconds of near invincibility and 100% penetration on direct damage with Corrosive Armor.
Some of the best resources sustain and ultimate generation for playing aggressively.
Built-in major breach, major/minor brutality, major defile, and major mending.
Great burst healing and healing overtime from multiple sources.
Gear sets give you a huge advantage when using procs and defensive sets.
All of your ultimates are amazing for defensive and offensive potential.
When you build the DK right, you'll be sitting at around 6,000 Weapon Damage, 30,000 Resistance, high critical, multiple proc sets and a massive stat pool.  The easiest experiment you can do for" is this class the best" is look around at all the "high" level players.  What are they playing battlegrounds?  What are they playing in Imperial City? And who's leading the charge in PvP?  Most likely it will be a Stamina Dragonknight and if you haven't tried it yet I would, it's the strongest it's ever been in Update 37 Scribes of Fate.
---
Additional Guides
Thank you for reading Best ESO Classes: PvP Tier List for Scribes of Fate DLC article!
Check our ESO builds and guides. Also, consider watching me on Twitch, where you can ask me questions about my current builds or check out the YouTube Channer.